MVP Shirley Ort

MVP: Most Valuable Professional is a series that features a brief Q&A with a different NASFAA member every couple of weeks. Do you know a financial aid colleague with something interesting to say? Send the names of potential future MVPs and a short note about why you're nominating them to news@nasfaa.org.
Shirley Ort
Associate Provost and Director, Scholarships and Student Aid at the University of North Carolina, Chapel Hill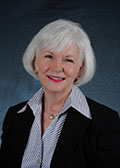 With 40 years of financial aid experience under her belt, Shirley began her career as an employee in the student affairs office at a small college. One day her boss walked up to her and said, "We have just fired the financial aid director, and guess what – you're it!" and she has worked in the field ever since. Before moving to North Carolina, Shirley served as deputy director for student financial aid for the state higher education coordinating board in Washington state. Shirley has served on NASFAA's Reimagining Aid Design and Delivery (RADD) Task Force as well as the National Conference Committee and Graduate/Professionals Issues Committees (GPIC).
What profession other than your own would you like to attempt?
Photography. But my friends who are photographers remind me that I would still like to eat!
What profession would you not like to do?
Stuffing kapok pillows into life preservers on a factory line – which I did one summer. That, too, motivated me to go to college.
What is a goal you've set for yourself for the upcoming year?
I am actually living it. I decided to consciously honor an idea, an individual, or a work of art each week – to be truly mindful of what it means to honor someone or something. I am on week 10 and it is one of the most exhilarating things I have done. The only rule is that the "honoring" has to be accomplished by each Sunday night to make way for the next one. Last week it was Rachmaninov; this week a dear friend that I recently lost. I have no list of whom or what I will honor the next week. I just let it come to me, and it does.
If you won $1 million, what would you spend it on?
Traveling with my extended family and food security for others in North Carolina. Lots of others.
The best advice I have ever gotten:
"Let your mistakes be those of trying." From a speech by Larry Summers, former president of Harvard and economist.
What NASFAA service/product is most helpful to you?
Standards of Excellence Review (I have contracted for it twice!)
Most motivating financial aid experience:
Eliminating financial barriers for students from low-income families and seeing the effects, like what we do with the Carolina Covenant®.
What was the best thing that happened to you this past week?
After a busy schedule, I stayed in my pajamas all day last Sunday! And I favored a stack of fashion and home magazines over the Sunday New York Times – just for once.
I'm happiest when:
I am doing work I love for those who appreciate the work I do.
One personal fact that would surprise my coworkers:
I remain an active member of the Washington State Bar Association, for avocational interest. And I have had a Mary Kay license for years!
Have you ever attended the NASFAA national conference?
Yes, many. But my favorite is always Chicago – usually well attended and in a fun city. The memories all run together – a merger of good times with great colleagues focusing on important content.
Want to say hello to Shirley or reply to something she said? Please leave your remarks in the comments section, below! You can also take a look back at our past MVPs to read any you missed the first time around.

Publication Date: 3/20/2014
---