MVP Lisa Koretoff

MVP: Most Valuable Professional is a series that features a brief Q&A with a different NASFAA member every couple of weeks. Do you know a financial aid colleague with something interesting to say? Send the names of potential future MVPs and a short note about why you're nominating them to news@nasfaa.org.
Lisa Koretoff
Director of Financial Aid at Guilford Technical Community College
(Jamestown, North Carolina)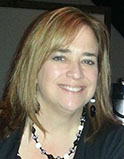 Lisa's career in financial aid began in 1987 when, while enrolled in college, she found a part-time job with a now defunct financial aid consulting firm that worked with small proprietary colleges. Upon graduating in 1992, she found her first full-time financial aid job at the College of the Sequoias, a community college in Visalia, California where she served as a financial aid supervisor. After moving to North Carolina with her husband, she took a job as the director of financial aid at Guilford Technical Community College where she has been since October 1995. Lisa has served in several roles in the North Carolina Association of Student Financial Aid Administrators (NCASFAA) including vice-president, legislative chair, webmaster, two-time conference chair, and president and has served on the Southern Association of Student Financial Aid Administrators (SASFAA) board and conference committee. Additionally she has served twice on the Journal of Student Financial Aid editorial board for NASFAA.
What profession other than your own would you like to attempt?
I think I would enjoy being a forest ranger. I would love the chance to work in the national parks. Besides, there's just something about those green polyester pants...
What profession would you not like to do?
Sales. I would be the world's worst saleswoman.
One thing working in financial aid has taught me:
It has taught me three things and these are the three things I pray for more of every morning: wisdom, patience, and compassion.
On my desk right now:
My ever-present cup of McDonald's unsweet tea. I can't get through the day without it!
Whom do you admire?
My boss at the College of the Sequoias, J. Ronald Hays, who is now retired. He was one of the best financial aid administrators I've ever met. He was my mentor and he convinced me that I could do well in this profession. I also admire my current boss, Dr. Quentin Johnson, vice president of student support services. His passion for students inspires me.
What is your greatest accomplishment?
In my profession, my greatest accomplishment was serving as the North Carolina Association of the Student Financial Aid Administrators (NCASFAA) president for the 2009-10 year. I was so proud to serve my state and my colleagues in that role.
What is a goal you've set for yourself for the upcoming year?
We work four-day weeks during the summer so I've vowed to spend more time hiking and kayaking on those Fridays off and less time doing work from home.
What NASFAA service/product is most helpful to you?

NASFAA's Today's News – so glad I get this in my inbox every weekday morning and don't have to wait for the printed version to be mailed to me. Ah, the old days!
Favorite animal:

Bears. They can kill you, but they're awfully cute!

I'm happiest when:

I'm with my co-workers (seriously!). I have such a hard-working and talented staff that it's a privilege and a pleasure to work with them.
Want to say hello to Lisa or reply to something she said? Please leave your remarks in the comments section, below!
Publication Date: 2/4/2014
---