Financial Aid Professionals Address Challenges, Skill-Building Opportunities at NASFAA Leadership Conference
By Allie Bidwell, NASFAA Senior Reporter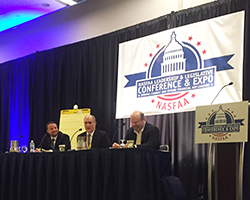 Financial aid professionals from around the country continued with intensive preparation and leadership skill-building sessions at NASFAA's 2018 Leadership & Legislative Conference & Expo in Washington, D.C. Tuesday.

Throughout the last two days, the nearly 300 conference attendees took part in sessions intended to provide them with knowledge, perspective, and insight into certain leadership and management roles, such as enrollment management, association management, and leading as a new or aspiring aid director.

Here are some takeaways from a few Tuesday sessions in the different pathways:
Joint Enrollment Management Idea Lab: Hot Topics in Enrollment Management
During this panel discussion moderated by NASFAA President Justin Draeger, speakers discussed current trending issues in enrollment management, such as how to balance the needs of students with the needs of the institution, what financial aid administrators can bring to the table in enrollment management discussions, and navigating "ethical gray areas." Craig Cornell, senior vice provost for strategic enrollment management at Ohio University, said financial aid professionals can be particularly helpful in enrollment management due to their experience in data analytics. The industry is seeing more of a change, he said, in the sense that public institutions too are using enrollment management as a way to leverage financial aid funds to both ensure students are supported and secure tuition revenue goals for the institution. Forrest Stuart, associate vice president for enrollment management and director of financial aid at Furman University, said it's also important to make sure the enrollment management team is filled with "feedback loops" to involve other offices on campus and avoid a limited view. "You're going to have situations that are going to test you," he said. "That's where you learn where your own [moral] compass is." Moving forward, both Cornell and Stuart said enrollment management will become more analytical and place more value on building relationships. For instance, some institutions can use data analytics to save some funds on the front end when recruiting students to save money to ensure students persist through school in later years, using methods such as emergency grants.
New & Aspiring Aid Directors Idea Lab: Positioning Yourself and Your Office
Financial aid professionals who are new to leadership positions—or who are hoping to move into them—may not yet grasp the importance of setting up both the financial aid office as a whole and themselves as individuals for success in the eyes of others at their institution. During this session, Kevin Jensen, vice president and chief enrollment management officer at SUNY Oneonta, and Andrew Hammontree, director of financial aid at Francis Tuttle Technology Center, discussed ways to build relationships with colleagues both inside and outside the financial aid office. One thing that can be essential in ensuring institutional leadership both understands and appreciates the role of the financial office is providing frequent and clear communication. "It's important for you to be aware what is the chain of command, the culture at your institution," Hammontree said. "You have to be careful about how you communicate. It's important to position yourself and let them know how effective you can be in your position." When things are going on that will impact the institution at a high level, Hammontree said, he makes sure to "send an email, do my homework, and schedule a face-to-face meeting" with the appropriate leaders within the institution. Aside from communication, the speakers emphasized that action is also key, and encouraged attendees not to shy away from opportunities to branch outside of their job descriptions and prove their effectiveness.
Association Management Idea Lab: Improving the Odds of Volunteerism
Kevin Jensen, vice president and chief enrollment management officer at SUNY Oneonta, and Mary Sommers, director of financial aid at the University of Nebraska-Kearney, discussed with attendees different methods for drawing more association members into volunteer opportunities, and making sure the experience is valuable for both the members and the association. "As leaders in your association this is something that is and should be persistently on our minds," Jensen said. "We volunteer as people—we make choices to volunteer because it's an opportunity. You can get away and learn something new. You can stretch yourself." Jensen also reiterated that association leaders can present volunteer opportunities in ways that are more appealing to individuals—presenting it as an opportunity to learn, build skills, and contribute to an organization. While messaging is particularly important in recruiting volunteers, Jensen and Sommers said association leaders can also leverage what they know about their members to gather a more diverse and inclusive group of volunteers by reaching out to particular groups or widening their search.
Strategic Enrollment Management Idea Lab: Remaining Ethical in an Increasingly Competitive Environment
During this session, Sharon Alston, vice provost for undergraduate enrollment at American University, guided attendees in the Strategic Enrollment Management pathway through a deep discussion on navigating ethical challenges that arise as enrollment management becomes more integrated in financial aid. The group discussed the various stakeholder interests the financial aid office needs to balance, such as executives, trustees, and other offices on campus, as well as outside pressures that may influence decisions, such as rankings, changing demographics, competition, and revenue generation. Alston discussed how various guidelines, such as NASFAA's Code of Conduct and Statement of Ethical Principles, as well as the National Association for College Admission Counseling's (NACAC) ethical guidelines, can help financial aid offices make better decisions regarding financial aid award packages, college nights, and student decision deadlines. While making some choices might benefit the institution, such as having a student confirm before May 1 whether he or she will accept a scholarship offer, they might also violate certain ethical codes.
Be sure to check out NASFAA's Facebook album throughout the week for photos from the conference and follow along on Twitter with #NASFAALeads18 to keep up with what members are talking about!
Publication Date: 2/28/2018
---