MVP Tony Sozzo

MVP: Most Valuable Professional is a series that features a brief Q&A with a different NASFAA member every couple of weeks. Do you know a financial aid colleague with something interesting to say? Send the names of potential future MVPs and a short note about why you're nominating them to news@nasfaa.org.
Tony Sozzo
Associate Dean for Student Affairs and Director of Student Financial Planning and Student Activities At New York Medical College
(Valhalla, NY)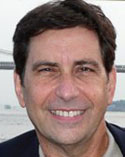 Tony began his financial aid career at Iona College in New Rochelle, NY under the guidance of Richard Biondi. He previously served as chair of NASFAA's Graduate and Professional Issues Committee (GPIC) and currently serves as the moderator for NASFAA's Graduate/Professional listserv. He also moderates his own medaid-l listserv which just celebrated it's 20 year anniversary.
One thing working in financial aid has taught me:
It has taught me to be a good listener and not have any pre-conceived notions about the way people live. Be open and treat everyone equally.
What I do when I'm not at work:
I ride my bicycle or go for a hike, take pictures, roast coffee, visit family, cook, and garden. I relax when I can and listen to music-- mostly jazz.
On my desk right now:
I have a lot of paper! Mostly preparing for the spring exit Interviews and other things. I plan to change how we approach exits this year.
What sound or noise do you love?
The sound of a cat purring and the uncontrollable laughter of a baby.
What is your greatest accomplishment?
When people say I am trustworthy and a good person. A lot can be accomplished when people trust each other.
What is a goal you've set for yourself for the upcoming year?
I always want to be relevant to my students, colleagues, and my institution by trying new ways to communicate, teach, and give advice. I also try to stay abreast of the ever changing landscape in higher education.
If you could take an all expenses paid vacation somewhere, where would you go?
Probably Italy since I am of Italian heritage. However seeing the good old USA by driving cross-country would also intrigue me.
The best advice I ever got:
Two things: Personally: "Do unto others as you would have done to unto you."
Professionally: "Take less of the credit and a more of the blame" especially when managing people.
What NASFAA service/product is most helpful to you?
There are many: Today's News, the Graduate/Professional listserv, GPIC, AskRegs etc.
One personal fact that would surprise my coworkers is that...
I consider myself an introvert.
If I had a super power...
I would like to be able to make negative people speak in a positive way. As soon as they began to talk negatively, I would snap my fingers and they would immediately speak in a positive manner.
I'm happiest when...
I do a good days work and help my students and co-workers and spend time with my extended family.
Want to say hello to Tony or reply to something he said? Please leave your remarks in the comments section, below!
Publication Date: 12/9/2013
---