Bringing the #Fight4FinAid Home
By Allie Bidwell, NASFAA Senior Reporter
In the last several months since NASFAA's 2017 National Conference in San Diego, members across the country have taken it upon themselves to bring advocacy—and the Fight for Financial Aid—home to their own state and regional associations.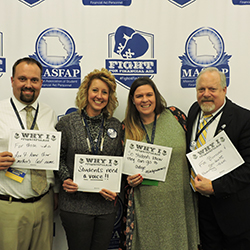 So far, the Missouri Association of Student Financial Aid Personnel (MASFAP) and the Michigan Student Financial Aid Association (MSFAA) have each held rallies at their state conferences, encouraging members to become more active in student aid advocacy.
Amy Hager, director of financial aid at Moberly Area Community College, was president of the Missouri association last year, and was inspired to host a rally at the MASFAP annual conference in November. In the last year, Hager said the association had stepped up its legislative advocacy with a trip to Washington, DC to visit the Missouri delegation.
"As a result of contacts we made, we have stayed in contact with several of our representatives and senators and they have sought our feedback," Hager said. "But I didn't want to leave that [advocacy] just at the board level. Advocacy needs to be grassroots, and we all need to be aware of what's going on."
Ahead of the rally, Hager and a group of members in the association's leadership development program arranged to have a local high school's drumline perform to energize the crowd at the beginning of the rally, and collected "Fight for Financial Aid" buttons from NASFAA. The group printed out "Why I Fight" signs to hand out, and designed a backdrop to use as a photo background.
"There was a really awesome energy in the room," Hager said. "Generating that energy creates awareness. You have to be continuous with the awareness. We have to be on the minds of people regularly so they don't forget the importance of advocacy. If we don't, we lose people."
Hager said the association will plan to hold other advocacy-related rallies in the future.
"We have to be able to communicate with our hometown legislators. They all have a vote," she said. "I think a grassroots movement that carries across our country is what it's going to take to make sure our message is heard."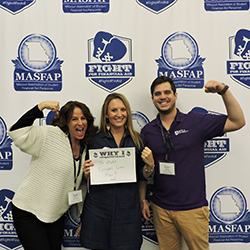 Meanwhile, in Michigan, Donna Holubik was at work planning a rally to hold at MSFAA's 50th anniversary association training in January. Holubik, director of financial aid at Eastern Michigan University, was planning a rally to follow the keynote speaker, Joanne Chavez, who spoke about how college access and aid programs were instrumental to her getting through college and moving on to a successful career.
"Her whole platform was about how financial aid was important to her," Holubik said. "People were emotional, and excited."
As Chavez exited the stage, Gloria Estefan's "Get on Your Feet" began to play to energize the crowd.
"That song has a way of getting you going," Holubik said.
Holubik spoke to the association about President Donald Trump's proposed budget cuts, and why it's important to be advocates for students. She then introduced two students from Eastern Michigan University who spoke about what financial aid means to them.
"I think it's created a feeling … of carrying this message forward through this next aid year," Holubik said.
To learn more about advocating for student aid, head to NASFAA's Fight for Financial Aid page, where you can find news and resources, advocacy tips, and rally materials to use at your own conference.
Publication Date: 3/13/2018
---