MVP Jim White

MVP: Most Valuable Professional is a series that features a brief Q&A with a different NASFAA member every couple of weeks. Do you know a financial aid colleague with something interesting to say? Send the names of potential future MVPs and a short note about why you're nominating them to news@nasfaa.org.
Jim White
Dean of Student Financial Services at Gonzaga University
(Spokane, WA)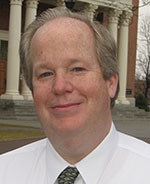 Jim began his financial aid career as a work-study student working in the Office of Admissions and Financial Aid at the Catholic University of America in Washington, DC. He has been working in the field for 28 years now-- 32 years if you include his time as a student employee! He currently serves on NASFAA's Nominations and Elections Committee.
The best advice I ever got was…
"Get out of the office and interact with colleagues across campus."
Favorite movies/TV shows/books are…
I love lots of movies, but I guess I would have to say my favorites would be the "Lord of the Rings" Trilogy. That could go for favorite books as well, though I also love the works of David Eddings, and J.K. Rowling, Deborah Harkness.
One thing working in financial aid has taught me...
The importance of good, clear communication.
Who do you admire?
People who have the courage, vision, and conviction to change the world for the better. People who stand up for the poor and marginalized. I saw the movie "The Butler" this weekend so I think the Freedom Fighters of the 1960's are still in my mind.
If you had a super power what would it be?
I would like to fly.
You can have dinner with three celebrities, dead or alive. Who are they?
John F Kennedy, Oprah, Pope Francis
What NASFAA service/product is most helpful to you?
Ask Regs. I love to be able to have someone to email to ask a question.
My most motivating financial aid experience has been...
Talking with parents and students at admissions events or orientation events. They are usually so grateful and have so many, very interesting stories.
I'm happiest when...
It is cold or stormy outside and I am warm and comfy reading a good book inside.
One personal fact that would surprise my coworkers...
I am way more introverted than extroverted.
Want to say hello to Jim or reply to something he said? Please leave your remarks in the comments section, below!
Publication Date: 9/30/2013
---