Meanwhile From McCall: Shaping the Destiny of the Republic
By McCall Hopkin, Dallas Martin Endowment Policy Intern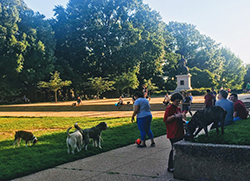 I love to spend time at Lincoln Park — it's a beautiful community park east of the U.S. Capitol and just a few blocks from my apartment. As you can see from this photo I took there yesterday, it's a great place to pet strangers' dogs. More importantly, though, the park is home to the 'original' Lincoln memorial, a small (and somewhat controversial) statue erected in 1876 and dedicated by Frederick Douglass. Douglass, easily one of my favorite historical figures, gave a powerful speech in front of the memorial saying Washington, D.C. is "where the ablest and best men of the country are sent to devise the policy, enact the laws, and shape the destiny of the Republic."
In his dedicatory speech, Douglass was critical of both Lincoln's legacy and the statue itself. But it was clear he was hopeful for the future and was confident in the power of policy, even if it was often ugly, slow-moving, and messy. I think about this idea a lot as I engage in policy work in Washington. This week, for example, I've been combing through the PROSPER Act and other pending higher education bills. It's interesting to see how legislation can simultaneously help and harm, and how small provisions can have big consequences (both intended and not). I also got a crash course on the complexities of the budget process and sat through a slightly combative Senate education subcommittee hearing. Takeaway: higher education lawmaking is messy.
That said, however, I also had the chance to listen in on several calls related to Forward50, an exciting NASFAA-led grant project funded by the Bill & Melinda Gates Foundation. Forward50 brings together a wide swath of institutional leaders to groupthink, problem-solve, and make recommendations around some of the most important issues in higher education. It's exciting to listen to practitioners from across the country work through these problems. Perhaps this is what Frederick Douglass meant when he talked about the "ablest and best men" (and women!): smart people anywhere in the country who are willing to face tough, messy challenges and propose solutions to decision makers in D.C.
I'll be up on the Hill this afternoon with a group of NASFAA members for Advocacy Pipeline, which I'm sure will only reinforce this idea. I'm confident that any step taken to help students succeed — whether it's communicating with an elected official or simply being a resource to students and families — can indeed "shape the destiny of the Republic." It's been a great week of research, writing, and listening (three of my favorite activities), and I can't wait to see what I'll be working on next.
Publication Date: 6/8/2018
---