Meanwhile From McCall: 2018 NASFAA National Conference
By McCall Hopkin, Dallas Martin Endowment Policy Intern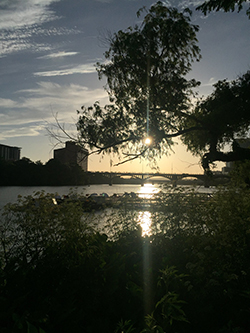 I am so grateful I had the chance to attend the 2018 NASFAA National Conference in Austin. Since you've likely already read the summaries of each day in Today's News, I thought I'd simply describe what being there meant to me both as a policy student and a (temporary) member of the NASFAA team. First of all, as several presenters pointed out, it was surreal to be discussing and debating student aid issues not 30 miles from where President Lyndon B. Johnson signed the Higher Education Act (HEA) in 1965. After the last session of the conference, I had some time to visit Lyndon B. Johnson's Presidential Library and Museum — it was an incredibly rich conclusion to my experience in Austin.
The museum, which displays the pen President Johnson used to sign the HEA, was a beautiful tribute to his work on civil rights, education, and alleviating poverty. It was important for me to see LBJ's education legislation contextualized within a much broader movement around human equality and justice. It also struck me that Johnson was a tough (sometimes overly aggressive) negotiator, that he wasn't always a champion of civil rights, and that the Vietnam War cast a dark shadow over his entire domestic agenda. As I mentioned in a previous post, higher education policy-making is messy — it was messy then, and it is messy now. And maybe that's ok, as long as we're willing to stick it out until things improve.
I think that's what I took away from this conference — it was clear to me that financial aid experts are willing to stick it out. Case in point, I sat through several Department of Education sessions and understood about 5 percent of the presentations — financial aid regulation is literally a foreign language. I learned that financial aid administrators, among so many other things, are translators between regulators, institutions, and families. They are constantly adjusting to new guidance from Washington, all the while fighting to protect the interests of their students.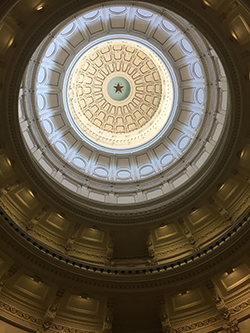 I watched this fight in action as NASFAA members communicated their concerns to congressional staffers. 'Behind PROPSER' was my favorite session; I thought it was a perfect illustration of a productive political discourse (I know, did we think that was still possible?!). It was encouraging to see administrators respectfully raise concerns, ask constructive questions, and seek to understand the original intent behind the bill. And, like many of you, I was very impressed by Emily Slack (Rep. Virginia Foxx's staffer) and her graciousness toward the concerns in the room. To me, this was a powerful lesson in civic engagement, advocacy, and mutual understanding. Every conversation at the conference ultimately circled back to students, and the enduring message of the week was hope.
Also, Austin is a beautiful city. I joined the NASFAA team to watch the bats fly at sunset, walked down historic Rainey Street, and visited the stunning Texas state capitol building. And the food! If you're into amazing tacos and care about the World Cup, I'd recommend Pueblo Viejo. And if you like sandwiches and Neil Young, you'd probably enjoy Royal Blue market (I went there multiple times). The city provided an amazing backdrop to the conference as a whole.
Ultimately, I think President Johnson would be pleased to see the legacy of his work today, and the thousands of financial aid professionals who gathered to reaffirm their commitment to his vision at NASFAA's 2018 National Conference this week.
Publication Date: 6/29/2018
---