Meanwhile From McCall: Hot and Cold
By McCall Hopkin, Dallas Martin Endowment Policy Intern
The Fourth of July in Washington, D.C., was almost as hot and humid as it was fun. This was my first Independence Day here in Washington and, even under the hot sun, it was such an amazing day. My favorite moment was chanting "Huzzah!" with hundreds of people as Thomas Jefferson, George Washington, and Abigail Adams impersonators read the Declaration of Independence on the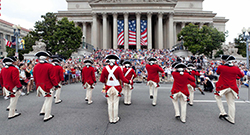 steps of the National Archives. It was hilarious and moving all at once. We ate hot dogs and watermelon, watched fireworks on the National Mall, and got horrible sunburns. Happy Birthday, America!
It's been muggy and hot in Washington ever since we got back from the NASFAA National Conference in Austin. Interestingly enough, as it heats up outside, action on higher education on Capitol Hill seems to be cooling down. The Senate appropriations bill covering education recently passed out of committee, though it's unclear whether this or the House bill will see serious movement any time soon. What's more, the PROSPER Act — House Republicans' Higher Education Act reauthorization bill — appears as far as ever from reaching a floor vote in the House, and members of Congress are turning their attention more toward their states and districts as Election Day approaches.
That said, NASFAA's work never cools off — the policy team is hard at work finalizing the National Profile rollout, shaping appropriations discussions, and keeping tabs on pending legislation. I've enjoyed plugging into opportunities on each of these fronts this week, and am excited to see how the political temperature in Washington continues to change.
Publication Date: 7/6/2018
---