Meanwhile From McCall: More Perfect
By McCall Hopkin, Dallas Martin Endowment Policy Intern
I'm pretty bad at keeping up with popular culture — I only recently finished "Stranger Things" and still haven't made it through the "Hamilton" soundtrack. I eventually get to everything, but I'm constantly two years behind on the trends. People in Washington, D.C. seem to be particularly "in the know" and, frankly, I'm starting to get in trouble in social situations.
Lately, I've been trying to catch up on podcasts so I can pretend to be interesting at parties, and this week I think it paid off! One of my favorite podcasts is "More Perfect," a "Radiolab" spinoff series about the Supreme Court, that dives deep into important and/or controversial federal court cases throughout history.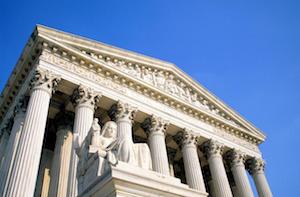 As you are surely aware, President Trump announced his Supreme Court nominee this week, which means everyone in Washington is now arguing about the balance of the court, politics of confirmation, and issue areas likely to be affected by a new justice. Having just finished this "More Perfect" podcast, I am more sensitive to the weight of this nomination and its potential consequences for political stakeholders, the average American, and for higher education. Plus, now I can tell people random details I picked up about Marbury v. Madison (did you know Thomas Jefferson and Chief Justice John Marshall were cousins?).
This nomination is likely to affect NASFAA's policy work as Republicans and Democrats on Capitol Hill go head-to-head in a confirmation battle. As always, however, NASFAA remains committed to its priorities even when partisanship in Washington heats up. The policy team recently finalized NASFAA's 2018 National Student Aid Profile and will unroll the report at a bipartisan briefing for congressional staffers later this month. This week, I've been analyzing the profile data and building presentation slides for the briefing. I love this line in the profile introduction: "It is our hope that you utilize this document not only to answer existing questions, but to also ask new, insightful questions about the federal student aid programs, who they serve, and how well they are working."
While you and I have little control over the makeup of the Supreme Court or its role in forming "a more perfect Union," it is certainly within our power to consider ways to make student aid processes more efficient, equitable, and indeed "more perfect." I enjoy being part of an organization that values continuous improvement and data-driven advocacy — keep an eye out for the release of the National Profile in Today's News so you, too, can weigh in on the state of student aid.
Publication Date: 7/13/2018
---