NASFAA Signs on to Amicus Brief Supporting Harvard's Holistic Admissions Model
By Allie Bidwell, NASFAA Senior Reporter
More than three dozen higher education organizations and advocacy groups — including NASFAA — this week submitted an amicus brief opposing a lawsuit's challenge to Harvard University's admissions process, which includes race as a factor for considering student applications.
The case, Students for Fair Admissions, Inc. v. Harvard , began back in 2014 when Students for Fair Admissions (SFFA) sued Harvard in an attempt to prevent colleges and universities from using race as a factor for consideration in admissions decisions.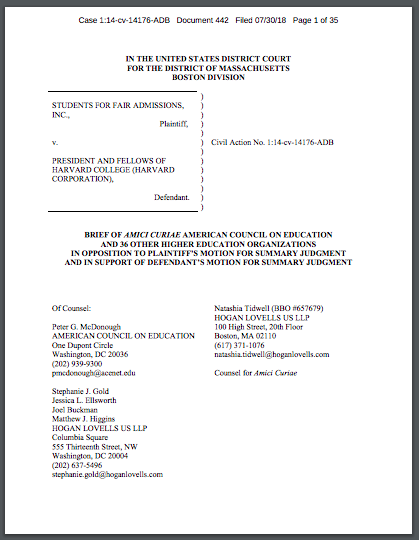 The SFFA, a group run by Edward Blum, a legal strategist known for challenging laws involving race and ethnicity, claimed in its lawsuit that Harvard discriminated against Asian-Americans.
"If the lawsuit against Harvard succeeds, it would diminish students' opportunities to live and learn in a diverse campus environment—denying them the kind of experiences that are central to Harvard's educational mission and critical for success in our diverse society," Harvard said on a page of its admissions website explaining the lawsuit to prospective students.
Just last week, Asian Americans Advancing Justice – Asian Law Caucus, a legal and civil rights organization serving the low-income Asian Pacific American communities, also filed an amicus brief in support of Harvard's admission policies.
"This lawsuit is not about Asian Americans," said Nicole Ochi, supervising attorney at Asian Americans Advancing Justice – Los Angeles, in a statement. "It is about using Asian Americans as a cover for Edward Blum's crusade to force every institution of higher education to ignore the reality of systemic racism and segregation that infects every aspect of our lives. Holistic race-conscious admissions is necessary to address that reality and ensure meaningful access and opportunity for all communities, including Asian Americans. Eliminating such programs will do nothing to remedy any intentional or implicit bias against Asian American applicants. That's not what this suit is really about."
SFFA earlier this year claimed internal admissions documents revealed through the Harvard lawsuit clearly showed discrimination toward Asian-American students and should be released to the public.
In June, the group filed a motion for a summary judgment, with Edward Blum, the group's president, saying the filing "definitively proves that Harvard engages in racial balancing, uses race as far more than a 'plus' factor, and has no interest in exploring race-neutral alternatives."
"It is our hope that the court will carefully study the statistical, documentary, and testimonial evidence amassed against Harvard and end these unfair and unlawful practices," he said in a statement.
Blum was also involved in a past, widely-known lawsuit challenging affirmative action admission policies brought by Abigail Fisher, a white student who was denied admission to the University of Texas at Austin (UT) and claimed that minority students with lower credentials had received admission to UT over her and that this violated her rights under the equal protection clause of the 14th Amendment. The case was decided in favor of the university in 2013 and upheld by the Supreme Court in 2016.
When the case was heard by the Supreme Court, NASFAA joined 37 other higher education organizations in signing an amicus brief in support of UT's policies to consider race during the admissions process, arguing that the university's clearly defined goals for increasing diversity at its institution opened the doors to higher education to an array of students. They wrote that Fisher, in arguing that courts should "supervise and supersede educators' judgments about educational objectives and the students who would best achieve them," would be placing an impossible burden on lawmakers.
"That approach, at odds with controlling precedent, would dictate a single conception of sound educational policy for every college and university and truncate institutional pluralism, a hallmark of American higher education. Such homogeneity would be as untenable as it is impractical," the groups wrote.
But earlier this summer, on July 3, the Trump administration withdrew Obama-era guidance on pro-affirmative action policies, including guidance related to the Fisher case, which NASFAA and many other higher education groups supported.
In response to SFFA's request for a summary judgment, Harvard officials said in a statement that the group is attempting to present "a deliberately misleading narrative, made possible only by their deeply flawed statistical analysis, to eliminate the consideration of race in college admissions."
"Their case is against Harvard, but their actions challenge the freedom and flexibility — entirely consistent with long set legal parameters — of every college and university in America to expand opportunity and create the diverse communities that enhance the learning of every student," the statement continued.
Likewise, NASFAA and other higher education groups wrote in the recently submitted amicus brief that "each institution should be able to exercise its academic judgment to determine within broad limits the diversity that will advance its own particular mission."
"This lawsuit is nothing more than the first step in a backdoor attempt to achieve the sweeping relief sought — and denied — in Fisher II: the end of the consideration of race in college admissions and the restriction of a university's ability to assemble a diverse student body," they wrote. "[We] think it is more than coincidence that this suit was filed against the very university that the Supreme Court has specifically cited approvingly — dating back to Bakke — for its appropriate use of race as a plus-factor in admissions."
Publication Date: 8/2/2018
---