FTC Quashes Fake Military Websites Generating Leads for Postsecondary Schools
By Allie Bidwell, NASFAA Senior Reporter
The Federal Trade Commission (FTC) on Thursday announced it had reached a settlement shutting down several copycat military websites that solicited personal information from military prospects and secretly sold the information to postsecondary institutions.
As a part of the settlement reached this week, the companies that owned websites such as army.com and armyenlist.com since at least 2010—the Alabama-based Sunkey Publishing, Inc. and Fanmail.com, LLC—agreed to shut down the websites and cease practices to mislead individuals seeking information on military recruitment.
"Those who are considering a military career deserve to have confidence that the recruitment site is legitimate and their personal information will not be misused," said FTC Chairman Joe Simons, in a statement. "The FTC will take action against any party in the lead generation ecosystem—from sellers to purchasers—that fails to comply with the law."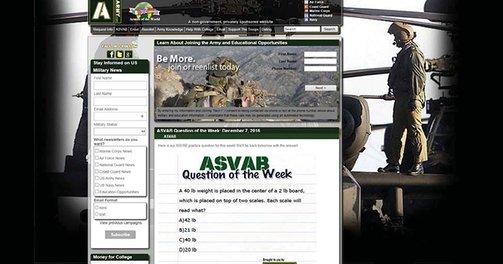 The FTC said in a release that shutting down the websites would partially satisfy penalty judgments of roughly $12 million total between the two companies—$11.1 million against Sunkey and $1 million against Fanmail—but that the remainder would be suspended because the companies are unable to pay.
Although the FTC voted 5-0 to approve the complaint and proposed orders, Commissioners Rohit Chopra and Rebecca Kelly Slaughter issued a separate statement emphasizing the severity of the companies' deception and the damage that "cannot be undone," calling the companies' conduct not only unlawful, but also "un-American."
Chopra and Slaughter also expressed concern over the fact that the buyers of the leads generated by the companies were colleges and universities "that enjoy substantial subsidies from taxpayers." The two said it would be "in the public interest" to publish the full list of colleges and universities that purchased leads, regardless of their sector.
"We should all be worried that some institutions of higher education see students as nothing more than potential revenue and are willing to turn to outfits employing unsavory tactics to meet their financial objectives," the statement said. "Companies that prey on current and prospective service members not only harm military families, but also the broader American public. They need to be stopped cold. By halting a scheme in which marketers posed as military recruiters to harvest and sell young people's personal information, the settlement announced today does just that, and I strongly support it."
(Photo Credit: Federal Trade Commission)
Publication Date: 9/7/2018
---