Report: Students Continue to Struggle From Post-Recession Tuition Spike
By Joelle Fredman, NASFAA Staff Reporter
To compensate for significant decreases in state funding for higher education during the Great Recession, institutions began to raise tuition. A decade later, funding still lags behind 2008 levels, and students are continuing to struggle with the rising costs of attending a postsecondary institution, according to a report released Thursday.
In its report, "Unkept Promises: State Cuts to Higher Education Threaten Access and Equity," the Center on Budget and Policy Priorities (CBPP) argued that rising tuition, which jumped by 36 percent, or $2,651, from 2008 to 2018 at four-year public colleges, has continually closed the door to higher education to many students—especially student of color, low-income students, and first-generation students. Coupled with stagnating or decreasing wages, the authors called on policymakers to focus financial resources on students and school that need it the most.
"The promise to past generations of students in America has been that if you work hard and strive, public colleges and universities will serve as an avenue to greater economic opportunity and upward mobility. For today's students—a cohort more racially and economically diverse than any before it—that promise is fading," the study's authors wrote.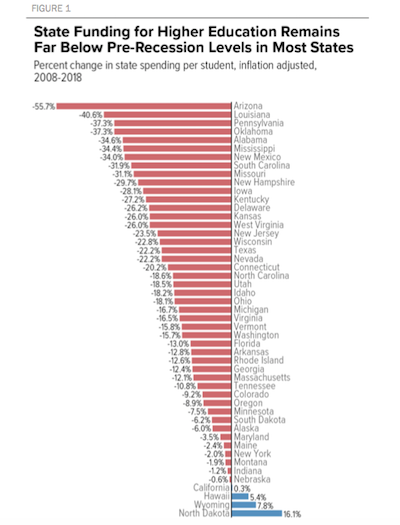 The authors found that of the 49 states they analyzed, which excluded Illinois because it lacked 2018 data, almost all spent less money on students in 2018 than they did in 2008. On average, states spent 16 percent less per student, or $1,502, in 2018 than in 2008, though in nine states—Alabama, Arizona, Louisiana, Mississippi, Missouri, New Mexico, Oklahoma, Pennsylvania, and South Carolina—that funding fell by more than 30 percent. The only states that spent more money per student than they did in 2008 were California, Hawaii, North Dakota, and Wyoming.
Between 2017 and 2018, the authors found that per-student funding remained relatively flat; in 31 states funding fell, and in 18 states it rose.
As state spending decreased, the authors found that over the past decade tuition prices have risen—by more than 60 percent in seven states, 40 percent in 20 states, and 20 percent in 40 states—while student services and "academic opportunities," such as faculty and course offerings, experienced cuts.
"Many states closed revenue shortfalls after the recession and its subsequent sluggish recovery through sizeable budget cuts, as opposed to pursuing a more balanced mix of responsible and targeted cuts and revenue increases. In fact, between fiscal years 2008 and 2012, for every $1 state lawmakers raised in new revenue they cut $3 from existing spending," the authors wrote.
The authors also noted that due to states' disinvestment in higher education, the burden of paying for college has increasingly fallen on students and families. While in 1988 students' tuition and fees accounted for one-quarter of colleges' revenue, with states bringing in the rest, today it is split down the middle.
The authors argued that tuition increases deter students from enrolling in college—especially students of color and low-income students. Research has shown, the authors noted, that rising costs lead to decreases in overall college diversity and may cause lower-income students to dismiss the prospect of enrolling in higher education due to schools' sticker prices because they are not always made aware of their eligibility for financial aid. The authors also warned that increases in tuition will push lower-income students to attend less-selective schools, which may result in lower earnings in the future.
"A large and growing share of future jobs will require college-educated workers," the authors wrote. "Sufficient public investment in higher education to keep quality high and tuition affordable, and to provide financial aid to students who need it most, would help states develop the skilled and diverse workforce they will need to compete for these jobs."
The authors wrote that to assist students access higher education despite these obstacles, states should focus on "bolstering" need-based aid and prioritizing it over merit-based aid, which they argued sometimes goes to students who would have remained in-state anyway, and targets needed resources at higher-income students instead of helping those of lower socioeconomic statuses.
"Long-term cuts to per-student higher education funding threaten affordability, access, and quality at public two- and four-year colleges across the states," the authors wrote. "Not only should states direct additional resources into supporting public colleges and universities and reverse the long-term trend of disinvestment, but they can also implement smarter state financial aid policies and ensure that dollars go to the schools that need it most."
The authors also discouraged lawmakers from supporting performance-based funding models, which can be especially difficult for public two-year colleges with small endowments and low enrollment that "lack basic resources needed [to] meet the goals laid out by performance-based metrics." They also warned that measures are usually "poorly-tailored to identify institutions that produce better outcomes for their students," such as institutions with low-income students and students of color.
"Rather than creating funding models that benefit the most well-resourced schools at the expense of smaller regional institutions—which often teach the students most in need of additional resources and supports—lawmakers should focus additional state funds on building the capacity of colleges with fewer resources," they wrote.
(Photo: CBPP)
Publication Date: 10/5/2018
---