Higher Education Act Reauthorization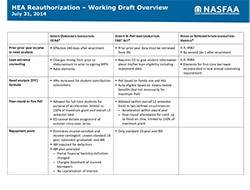 With the Higher Education Act (HEA) up for reauthorization, members of Congress have been busy introducing legislation to change and streamline federal financial aid processes. In this Higher Education Act Reauthorization Center, find in-depth analyses from NASFAA staff on key proposals set forth by the U.S. Senate and U.S. House of Representatives. Scroll down to read the latest coverage of HEA reauthorization legislation.
See below for links to the text of each reauthorization bill that has been released to date:
House Reauthorization Bills:
New! In order to help you navigate the various proposals, NASFAA has developed a comparison chart that illustrates the similarities and differences between the draft legislation.
NASFAA and its members have also been hard at work analyzing the HEA and potential new policies. Please read the Preliminary Report of the NASFAA Reauthorization Task Force, which was approved in June 2013 by the Board of Directors. If you have suggestions for additional areas where legislative change is needed, please send your ideas to reauth@nasfaa.org.
In addition to the articles below, also see the following background resources for more information:
Publication Date: 5/28/2013