KASFAA Committee Looking to Make Post-FAFSA Filing Training Available Statewide After Successful Pilot
By Jayna Johns, NASFAA Communications Staff

The Outreach Training Committee of the Kansas Association of Student Financial Aid Administrators (KASFAA) is looking to expand a "Train the Trainers" workshop it has been putting on across the state of Kansas every fall for decades. The fall program, free to all attendees, focuses on helping high school counselors and college access professionals navigate the FAFSA and generalized financial aid topics. The idea of expanding to include a spring program began when Sara Vancil, president of KASFAA, started wondering what else they could offer these professionals. The realization that there are often just as many questions after filing the FAFSA as there are before, but fewer resources available for guidance, led to the development of this new training program.
To test the viability of such a training, KASFAA held a pilot session titled "I Filed My FAFSA…Now What!?" in February of this year. Approximately 30 high school counselors and TRIO staff were in attendance for the presentation, coordinated by KU TRIO Talent Search—a free college access program sponsored by the University of Kansas and funded through the U.S. Department of Education—and led by Vancil as she covered topics such as FAFSA verification and rejections, helping students with special circumstances, such as job loss or divorce, and evaluating award packages.
"We feel that it's vitally important to give our high school partners the tools they need to help students make the right decisions when it comes to financial aid," said Vancil.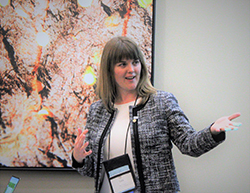 In its promotion of the pilot session, the Outreach Training Committee described the training as an opportunity for professionals, who already had a solid grasp on how to guide students and families in filling out the FAFSA and applying for scholarships, to gain knowledge about how to better assist families after the FAFSA has been filed. In addition to covering FAFSA verification and special circumstances, the training covered how to better help students and families understand direct versus indirect costs, accept aid and applying for loans, and how the college billing process typically works.
Anonymous feedback from attendees indicates the session was very popular. "Great presentation! I learned information that I wasn't aware of and was able to brush up on information that I learned earlier this year," said one attendee in a post-training survey.
"Great presenter, great info, much needed—and gives us the tools to help our students as they navigate this financial aid journey," said another attendee. Of those who filled out the survey, 94% said the training met their expectations and 81% said they would attend on a yearly basis.
Other feedback confirmed the program accomplished what it set out to do. "It touched on the steps that come after the FAFSA, which is usually a portion that is not covered in trainings," an attendee said.
In fact, attendees found the training so helpful that the most common suggestion for how to improve the workshop was to make the roughly two-hour session longer.
Inspired by the workshop's popularity, KASFAA is now looking to offer it statewide starting in the spring of 2020 as the next task for their Outreach Training Committee. The primary duty of this committee is to conduct the fall training sessions in person every year across the state. Trainers for these sessions are usually volunteer members of the committee, and according to Diane Lindeman, the chair of the committee, this new spring training will be similar in structure to the current fall training.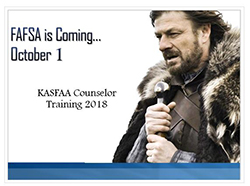 The fall session is typically held at seven different locations around the state and led by two or three trainers with a diverse range of financial aid backgrounds. These locations are chosen in attempt to offer a convenient option for as many people as possible, and attendees spend the morning with the KASFAA trainers having questions directly answered and reviewing changes to the financial aid processes that have been made in the past year. Most of the sessions are spent covering FAFSA filing directly.
According to Lindeman, limited budget availability means the initial spring sessions will likely only reach three or four locations. The goal is to eventually reach the same size audience as the fall sessions, but much of that will depend on whether it continues to be received with the same enthusiasm as the pilot.
Another option they've considered to increase their reach is to offer webinars of the sessions, which would allow anyone interested to watch the presentation whenever and wherever best works for them. However, Lindeman said feedback from other presentations consistently shows people prefer face-to-face presentations, and the uncertainty of how useful they will ultimately be keeps webinars as future "maybe" rather than an active plan.
The committee did, however, post a few short videos online that answer some common questions. They also made the PowerPoint from the training available so other members who couldn't attend the workshops still have access to some of the information and benefits provided.
There are still a lot of options for the committee to consider as it puts together this new opportunity, but KASFAA remains committed to arming college access staff and counselors in the state of Kansas with the information they need to help their students succeed.
_____
Our members are constantly going above and beyond to help their students succeed in higher education. NASFAA's Member Spotlight stories feature initiatives that our members have pursued that exceed the traditional scope of responsibilities of a financial aid office. If your university or financial aid office has taken on a project or unique efforts to help students, please reach out to us at [email protected].
Publication Date: 4/16/2019
---