Meet NASFAA's 2020 Dallas Martin Endowment Policy Intern: Muhammad Kara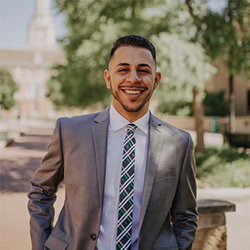 By Muhammad Kara, NASFAA Policy Staff
Hello NASFAA Community,
I am privileged to announce that I am NASFAA's 2020 Dallas Martin Endowment intern. Today's normal is not our usual normal, so I would like to thank the endowment supporters for making this internship possible. With many summer internships being canceled amid the COVID-19 pandemic, I am extremely appreciative of the hard work and support that went into making this internship virtual. So, again, thank you very much to the Dallas Martin Endowment contributors for providing this experience.
I just hit my one-year mark since I moved to Washington, D.C.! I am currently pursuing my master's degree in public administration with a focus in education policy at the George Washington University. Prior to my move, I resided in the great state of Texas, home of Blue Bell ice cream, Dr. Pepper, and hot temperatures. During my time in Texas, I completed my undergraduate degree at the University of North Texas. My undergraduate experience drastically shaped my passion for students and their challenges, and some might say that I was bitten by the student affairs bug.
I spent my four years at the University of North Texas working with administrators to create policies and make decisions that would truly benefit marginalized students, and was elected as the student body president my last year. This role opened my eyes to the intricacies and silos that were embedded into higher education. During my tenure, I chaired and took part in numerous university-wide committees with the goal of closing the gap between students and success. I sat on a committee that focused on the financial barriers facing students and was tasked with identifying potential solutions. I also charged my executive cabinet to expand grant funding available for students to attend and present at professional conferences and for student organizations to plan and execute university events to advance their organization's mission. Working with numerous administrators, we were able to increase available funds for both students and student organizations.
I was first introduced to financial aid policy during my undergraduate career, where I spent most of my senior year learning about my university's financial aid system and how it was greatly impacted by the federal and state governments. During my time as student body president, I identified a need to better financially support students in the Deferred Action for Childhood Arrivals (DACA) program. I made it my mission to work with the financial aid office to establish an electronic form for DACA students to reapply for state aid. Before my departure, the electronic form was established and has made state aid more accessible for these students on campus.
As I pursue my graduate degree, I have had the privilege to intern both within the House of Representatives and the Lumina Foundation. These opportunities have advanced my knowledge and understanding of higher education and financial aid policy. During my time within the House, I was able to conduct legislative research and analysis on bills relating to student loan debt, FAFSA simplification, and Pell Grant eligibility. This experience reignited my passion for higher education and led me to a policy internship at the Lumina Foundation. My time at the Lumina Foundation expanded my knowledge on state-level free college initiatives and managing expenses beyond tuition. This launched my motivation to deepen my understanding of the federal financial aid system. I am excited to expand my knowledge in this area through this internship and learn more about financial aid and federal advocacy while at NASFAA. With these professional experiences and upon graduation, I plan on attending law school to become an expert in higher education policy and join an institution as its general counsel.
Finally, to convince you all that I have interests outside of financial aid policy, I'll tell you a bit more about myself. Just like any millennial, I enjoy overly priced almond lattes, am an avid Netflix watcher, and prefer cats over dogs. I'll also share one of my most controversial opinions: "The Office" is the best TV show to exist in the world! I have watched all nine seasons over 15 times, go to "The Office" themed trivia nights, listen to "The Office" podcast, and own an unnecessary amount of "The Office" themed clothing. To top it all off, I share my birthday with one of the main characters on the show, Michael Scott. You could say I'm mildly obsessed.
Thank you for reading my introduction article! I hope you are all safe and well, and I look forward to virtually connecting with you this summer. Please stay tuned to Today's News, as I'll be providing periodic updates and writing articles throughout the summer. Feel free to contact me with any questions or comments at [email protected].
Publication Date: 5/19/2020
---