After Decades of Service, Pam Fowler Departs NASFAA's SOE Program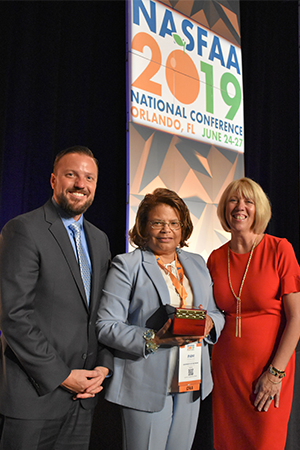 By Owen Daugherty, NASFAA Staff Reporter

Pam Fowler quit keeping track of all the schools she visited to conduct reviews for NASFAA's Standards of Excellence (SOE) Review Program after about 50, as there were too many to count and she had other things to worry about.

For Fowler, who served as executive director in the Office of Financial Aid at the University of Michigan until her retirement last June, traveling across the country to conduct these reviews was a task that she said aligned with her vocation, even though it normally meant late hours and little sleep, as it was in addition to her normal workload.

As a founding member of SOE and its longest-tenured member, Fowler estimates she has likely been a part of the most reviews and seen the program transform over time.

"Those initial reviews were just grueling because we were still trying to find our way through the program and work out exactly what we were going to say, and how we were going to say it to the institution. It was pretty rough," she said. "And then you come back ... I'd get home on Thursday night and just kind of decompress."

Fowler has seen it all in the field. When she first got her start with what was at the time an upstart committee doing SOE reviews, they did not support certifying financial aid administrators, but wanted to implement a process to show that administrators were capable.

"We came up with this program that we would do reviews to help directors better manage their offices and better manage the financial aid process," she said. Fowler was part of a team that built the program from the ground up, creating the worksheets and writing what would become the framework for what is now known as the formal SOE program.

As time went on and the SOE program began to change, Fowler applied her knowledge of the profession to how she reviewed other institutions, focusing on the people and how they operate as much as the policies and practices.

"It's not just the technical part. It's the evaluation of the office and how the operations in the office are going," she said. "Does the office have a good operational plan? That is what I feel is the most valuable thing of the process."

Fowler cut her teeth in financial aid at a wide range of institutions and in advocacy roles at the state, regional, and national levels, serving as NASFAA's 2011-12 national chair. Just last year she received NASFAA's Lifetime Achievement Award, the association's highest honor.

Above all, though, she said her work conducting SOE reviews was some of her most rewarding.

"It was never about the money. I would have done any of the reviews that I did without any compensation at all," she said. "That was not why I got into the program. That's not why I was devoted to the program. No, it was about helping other schools."

And while she originally did not think she would enjoy retirement very much, describing herself as the type of person who is always doing too many things at once, she has found ways to keep herself busy with various projects and enjoying her newfound free time.

"It's just nice, knowing that you don't have to be anywhere and you don't have to do anything and you don't have to answer to anyone at all," she said. "I have come to terms with retirement very well."

However, she still misses out on some of her favorite aspects of being in financial aid offices and conducting SOE reviews.

"I do miss the interactions with other people. I just miss going out and seeing how things are done elsewhere," Fowler said. "I learned a lot from SOE, and a lot of those things that I thought were good, I brought that to Michigan. So I miss going out and seeing how things are done in other places and how people are coping with different aspects of student aid."
Please join us in congratulating Pam and thanking her for her years of service in the comments section below.

Publication Date: 7/20/2020
---