NASFAA Members Talk PPY, Pell To Lawmakers
By Megan McClean, Policy & Federal Relations Staff
NASFAA members visited with congressional policymakers yesterday to stress the importance of simplification, student loan repayment, and the Pell Grant Program. Jeffrey Jacobs of North Dakota State University, Helen Faith of Lane Community College in Oregon, and Sarah Zipf of Penn State University were in D.C. participating in NASFAA's Advocacy Pipeline – an opportunity to join NASFAA staff and visit Capitol Hill. They shared their campus-level perspective on various reauthorization proposals, specifically discussing the benefits of prior-prior year (PPY), proposals to make the Pell Grant Program more flexible, and the need to simply student loan repayment. The group met with staffers in the offices of three lawmakers: Representative Jared Polis (D-CO), Senator Ron Wyden (D-OR), and Senator Heidi Heitkamp (R-ND).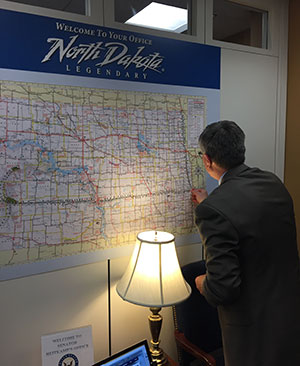 The message to move to PPY income as a part of the broader simplification effort was well received by the offices visited. NASFAA members and congressional staff discussed the potential benefits of moving to PPY, including early information for students and families, greater use of the IRS Data Retrieval Tool (DRT), and reduced verification burden for both students and financial aid administrators. Proposals to make the Pell Grant Program more flexible to the needs of the non-traditional learner were also discussed, with special attention given the concept of the "Pell Well," whereby students could draw down Pell funds at their own pace. There was also great interest from staff in ways to simplify student loan repayment for borrowers. During this discussion NASFAA members called for a more simplified repayment system and the authority for financial aid administrators to limit loan amounts for certain categories of students.
"The day spent on Capitol Hill visiting with Representatives' and Senators' staff felt as though I was making a difference," said Jacobs. "Explaining prior-prior year, Pell Grant Program and Direct Loan Repayment options was satisfying in the sense of bringing more awareness of the issues to those who can influence current policies. I would highly recommend the Advocacy Pipeline program to everyone."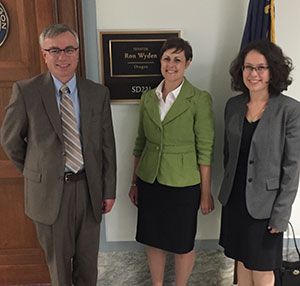 "As an experienced financial aid administrator, I consider it both an honor and a responsibility to help educate policymakers on student aid issues," added Faith. "Meeting with Hill staffers today gave us the unique opportunity to engage with people in a position to make policy recommendations that could have far-reaching consequences. By reaching out to lawmakers to discuss our shared concerns regarding access to affordable postsecondary education, we can make a difference for students, and the long-term impact we can have has the potential to continue for years to come. I would encourage any of my fellow aid administrators who wish to impact federal aid policy to participate in a Hill visit!"
"I hope our elected officials are able to make better informed decisions and understand how important our aid programs are after hearing directly from the student-facing experience," Zipf said.
The Hill visits were part of NASFAA's ongoing advocacy effort, the Advocacy Pipeline, designed to bring NASFAA's elected leaders and other members to D.C. to share on-the-ground perspectives with policymakers. In the coming months, additional NASFAA members will come to Washington in small groups to participate in direct advocacy with Congressional offices.
To learn how you can become involved please email policy@nasfaa.org and visit www.nasfaa.org/advocacy for more information on NASFAA policy and advocacy efforts. Check out our Facebook page for pictures from previous Advocacy Pipeline visits!
Publication Date: 5/28/2015