OTC From the Field: Additional Thoughts on Remote Financial Aid Work
By Hugh T. Ferguson, NASFAA Staff Reporter

Our most recent episode of "Off The Cuff" covered how a pair of financial aid professionals are approaching remote work at their institutions in 2022.
Helping us dig in deeper to that conversation is Cristi Millard, the director of special projects and compliance for the Office of Financial Aid and Scholarships at Salt Lake Community College, who discussed her office plans and highlighted how the virtual landscape is impacting the field.
This Q&A has been lightly edited for length and clarity.
TN: How did your office operate prior to the onset of the pandemic?
CM: We have several campuses for our school and have financial aid offices that are fully functioning at four campuses. Prior to the pandemic they were completely in person, everything was in person, everybody was there every day.
We had just recently transitioned to all of our forms being online ... and that was already starting to make a change. I had even talked to my bosses and asked, pre-pandemic, can some of our people work remotely? We were actually having this discussion in February of 2020.And then the next month is when the pandemic hit.
TN: How did your office transition to operating remotely?
CM: Our office shut down for about two weeks and then they wanted us to have a presence. But I would say 90% of the staff was working from home. One of the issues with that was a lot of them couldn't work from home because they didn't have internet access or computer access. We had to work with getting everybody a laptop so that they were secure when they logged in, rather than using their computers from home.
During the pandemic, our institution wanted us to have our front desk areas open if students needed to come in, but frankly, most of our students were used to doing everything online, and so our foot traffic had already decreased quite a bit and then with the pandemic, it was almost non-existent.
Even though we're now open completely we still allow our staff at least one, if not two days a week, where they can work from home.
Our front desk is fully staffed, our phones are fully staffed, so obviously our phone traffic went up, and our foot traffic went down.
TN: In the coming weeks and months ahead do you see your office changing its operation status?
CM: We're hoping that we remain hybrid. I have technology staff, and they feel like they need to be in the office — and they kind of do because they do all of the work with the Department of Education and want to make sure they have a secure connection.
But some of our other positions, like our advisors are doing Zoom meetings with students, it just doesn't seem logical to have everybody in the office when they can do their work from home. And I actually believe that the employees worked harder at home than they did in the office. At home, you're kind of by yourself and so you don't have all those opportunities to talk to people and walk around. It's nice to be able to come into the office and catch up with people. So I think going forward we'll probably be doing at least three days in the office and two days at home, or it may turn out to be the other way, three days at home and two days in the office. We're just kind of playing it by ear.
TN: What sort of lessons did your office learn from being forced to operate in a virtual landscape and how will that impact the future of financial aid work?
CM: The biggest one was how much work our staff could get done at home. We found that they get a lot of work done. We use Jabber, and staff might be jabbering with their supervisors and say, "Hey, I finished this, what can I do now?"
The other thing I think we learned was how much our students utilize technology and really appreciate being able to do everything online and not have to fill out pieces of paper. We do a lot of workshops with students on how to fill out the FAFSA, and we still do that, but now we also do those virtually.
TN: How is your office addressing student needs? In what ways has remote work impacted the ways in which you interact?
CM: I think they expect to be served as quickly as possible, so that's the big thing. We have to make sure that we have people answering the phones and students aren't left hanging. It used to be, when we would have maybe two people answering the phone and we'd have 10 people, 14 people in the queue. Now we have more staff that can answer the phone part-time because they don't have much paperwork to process.
The biggest thing is that we have to meet the students' expectation of a quick response. We implemented a chatbot at our institution and one of the things that it's supposed to do as we get further into it, is actually send us information. If a student contacts a chatbot in the middle of the night and needs to talk to somebody, that will have a cue when we come in that says, "Hey, these students need you to contact them."
TN: When it comes to virtual delivery, how do you anticipate conferences and professional development opportunities to change?
CM: On the one hand, I liked the idea of virtual conferences, like the FSA Training Conference next week that's all virtual. But on the other hand, I think the thing that we miss — and I noticed this from one of the things in Today's News, when it was talking about how Blue Icon is setting up a discussion after FSA — is that you don't get that networking.
We had our Rocky Mountain conference in person, and they were going to try to do a hybrid, but it's just too expensive to try to do both. It was really nice being able to see people face-to-face and talk to them. I think conferences and professional development opportunities will continue to be a hybrid. While the virtual is nice, because more people can come, you do sometimes need that in-person networking that you can do, because it's hard to get to know people when you never meet them.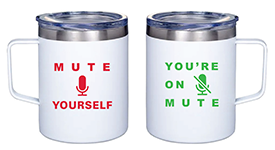 TN: What sort of resources do you anticipate your office will need investments in as we continue operation in a virtual environment?
CM: One of the biggest things when we first went into this was how to use Microsoft Teams or Zoom, because so few of us had done those before. We had mugs made for our staff that on one side it says you're on mute and on the other side it says mute yourself, because people have such a difficult time.
I think it's just keeping up with what technology can do, because our students jump on it really quickly and we're a little bit behind, as far as our offices are concerned. But I think as we move forward, it'll help us to keep up with that, and pay attention, learn more, and find how to serve students in this environment, rather than the in-person environment.
TN: Any predictions for what work looks like six months to a year from now?
CM: I think we're going to be in between both worlds — remote and in-person work. Until the pandemic ends, or at least decreases to a better level, I think we're going to still be this way.
There are a lot of things up in the air still with the whole pandemic. So in six months to a year, I think we're probably going to be right where we are right now. In five years, I have no clue where we're going to be.
Stream the episode to get insight into the wide-ranging conversation.
Have thoughts on remote work or have a comment about "Off The Cuff"? Be sure to send your thoughts, questions, and comments. We'd love to hear from you.
Publication Date: 11/24/2021
---