NASFAA 2022 DME Policy Intern Jackson Snellman, Bids Farewell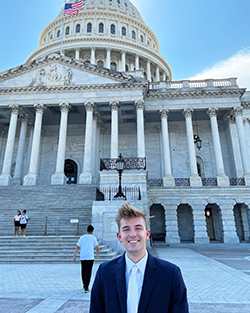 By Jackson Snellman, NASFAA Policy Staff
Dear members of the NASFAA community,
Just as I wrote in my introductory article at the beginning of this summer, I want to begin by expressing my extreme gratitude for the supporters of the Dallas Martin Endowment as well as the members of NASFAA who made my presence here possible. I cannot believe that the summer is over, and that my time with NASFAA draws to a close. In the past few months, my understanding of the higher education policy process has deepened, and my capacity to work with multi-faceted aspects of policy, advocacy and research has been greatly expanded.
As I write this article during my last week, I cannot help but think of the people NASFAA serves: aid administrators across the country who have worked with sometimes confusing departmental guidance, the distribution of emergency funds related to COVID-19, and the staffing shortages affecting us all. Meeting these administrators — all of them full of joy — at our conference in Austin, Texas served as the rare but valuable opportunity to engage with the workers who are most directly affected by our policies. Please read below a summary of the five most significant experiences at NASFAA this summer, where I had the opportunity to directly help the people who keep our institutions running.
Updating the 2022 National Student Aid Profile
Having previously worked for the Rutgers Office of Federal Relations, I learned the value of having up-to-date statistics on student aid outcomes to ensure that institutions of higher education run smoothly and adequately support students. While student aid data is made available through various Department of Education (ED) sources throughout the year, one of the most important annual tasks NASFAA performs (in my opinion) is publishing the National Student Aid Profile. This document serves as a resource for congressional offices, the higher ed policy community, and aid administrators to keep up with federal aid changes each academic year. My first few weeks with NASFAA were filled with updating the data points in this extensive document, which includes the data on federal student aid volume and recipients over the past few academic years. As the summer passed, however, my work went beyond simply updating data included in the report and the Profile became a project of my own. I had the chance to interact with members of NASFAA staff from the research, communications, and executive teams, as well as work with outside parties to ensure that the profile remained at its usual high standard. Though some data remains unavailable due to the student loan repayment pause, I am excited to see the Profile's release, and have learned much about these important elements of policy-oriented nonprofits.
Attending NASFAA's 2022 National Conference in Austin, Texas
Though I attended classes in-person for the 2022-23 school year, I had not yet experienced an in-person professional opportunity prior to my time at NASFAA. After several weeks working remotely, I was thrilled to meet my coworkers and over 1,500 of our members in Austin, Texas at our first in-person annual conference since 2019. The highlights of the four-day program were doubtlessly the sessions that informed attendees about the changing face of financial aid administration during the pandemic, and allowed members to share anecdotal advice about how their universities were addressing the crises. A combination of exuberance over attending in-person and the ability to escape the Zoom box, including meeting last year's DME Intern, Richard Davis, Jr., made the time in Austin a focal point of my summer.
Traveling to Washington, DC for a Week of an In-Person Work
In addition to my time in Austin, I had the wonderful opportunity to spend a week in Washington, D.C. where I attended in-person events with NASFAA and participated in the Postsecondary National Policy Institute (PNPI)'s Federal Student Aid Boot Camp. I had the chance to spend two days on Capitol Hill – one day introducing NASFAA to Congressional offices, and the next with the Committee for Education Funding advocating for appropriations priorities in the upcoming fiscal year. Walking the halls of Congress was a magical experience, and one that will not leave me soon. Wrapping up the week, my coworker Nalia Medina and I attended the aforementioned Federal Student Aid Boot Camp. Highlights included networking with other young professionals, conducting in-depth analysis of student aid programs, and learning to interpret information from a FAFSA. All of these experiences served as a strong foundation for my career, and introduced me to the policy world in a way I could not have imagined.
Legislative Tracking & Policy Analysis
Through the DME Internship, I was able to translate my passion for reading and analyzing legislation into a functional aspect of a job. NASFAA's Legislative Tracker includes summary and interpretation of relevant higher education bills before Congress in an accessible, free manner, and working to provide this information for our members and the general public truly emphasized the public service aspect of the internship. Through reading proposed legislation and consulting with other members of our policy team on the potential impact on students and aid administrators, I was able to translate complicated legislative language into something accessible and easily understood by the general public (and my parents, when they ask what I do!). I also put this skillset to use when reviewing legislation introduced on Capitol Hill, where Congressional staffers and the NASFAA team discuss the detailed implications of proposed policy solutions.
Growing to Understand a Member-Based Nonprofit
Finally, the reason I initially pursued an internship with NASFAA was to better understand how a non-profit organization works. Having worked for Rutgers Federal Relations, I had a solid grasp of the basics of higher education policy, yet had no experience advocating for non-institutional needs. Working with NASFAA allowed me to understand the responsibilities of a policy-oriented nonprofit, including communicating with the Board of Directors and representing our members, as well as the overall mission of the organization. Additionally, working for a relatively small organization like NASFAA has allowed me to experience a community within a workplace. The people here have made it an extremely rewarding experience to serve our members, and have shown me the ropes of how to operate in this sphere. I have been grateful for the opportunity to work here, and I hope to continue this meaningful work in the future.
Final Thoughts & What's Next
All of these experiences are ones I will not soon forget. Less than two weeks from my writing this article, I will be moving to Paris to pursue a master's degree in public policy with a focus in social policy and social innovation. After studying political science for my bachelor's degree, I am excited to dive into the complex processes of policy creation and analysis from an educational perspective, hopefully with an advantage from my time with NASFAA! I am unsure where my future career will lead me, but if the values espoused by my future workplace are the same as those demonstrated by our team, I know that I will be just fine.
As I wrap up, I must thank all of our members and the incredible staff at NASFAA who shared their guidance and expertise and have been nothing but kind to me this summer. Specifically, I would like to shout out our policy team — Karen, Megan, Jill, Nalia, and Charlotte — for coming to our weekly meetings with good humor, encouraging my celebration when appropriations bills were released, and providing amazing support for me in a transitional period of life. My supervisor Rachel Gentry has also been a tremendous ally and has helped shape my NASFAA experience for the better while aiding me in understanding how to be a young professional in Washington.
I am eternally grateful for this experience, and thank you for following my article. Onto the next adventure!
Publication Date: 8/5/2022
---