Q&A With Amy Cable: What to Expect From the Succession Planning Pathway
By Maria Carrasco, NASFAA Staff Reporter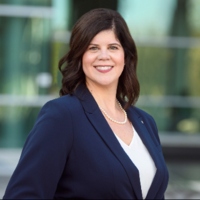 The NASFAA Leadership & Legislative Conference & Expo is just around the corner. With the conference offering five different pathways, today we're highlighting the Succession Planning Pathway, with the pathway's chair Amy Cable, chief student affairs officer at Louisiana Community and Technical College System.
The Succession Planning Pathway was developed to help financial aid leaders prepare for the future, with topics including staff development, identifying leadership/management potential, equity and inclusivity in the managerial pipeline, and more.
The pathway will host several idea labs, including one that will have attendees create a strategic succession plan to both recruit the best people and to invest in those staff. Another idea lab will look at what succession planning is exactly, and another will focus on how aid offices can retain and develop talented employees.
Explore the full agenda and register for the NASFAA Leadership & Legislative Conference & Expo before spaces fill up.
Have more questions? Members can also tune into an "Ask Me Anything" (AMA) session with Amy to learn more about the Succession Planning Pathway. The session is Wednesday, January 11, at 11 a.m. ET in NASFAA's financial aid chat community.
Read on to learn more about what to expect at the Succession Planning Pathway!
TN: How did the Succession Planning Pathway come to be?
AC: It really started as part of a larger strategic vision that's been in place. There have been some discussions at several NASFAA Board of Directors meetings in the last few years around succession planning, and I think that's where the impetus came from to create a pathway like this. I also think that succession planning has been identified as a vulnerability within institutions. The pandemic opened the curtains and we're seeing this "great resignation." It's just a very timely pathway.
TN: What can attendees expect out of the Succession Planning Pathway?
AC: In the second year of this pathway, we really plan on providing several general sessions that will touch on the purpose of succession planning, and the importance of ensuring diversity, equity, and inclusion are included in those succession plans. But most importantly, there are going to be several hands-on exercises that will help identify critical positions, and the competencies and skills associated with those positions. Our goal is for attendees to leave with a template or shell of a succession plan that they can take back to the office and continue to build and tweak as needed.
TN: What are you most looking forward to at the pathway?
AC: Our task force really wanted to be able to provide a healthy balance of general information about succession planning. We wanted to have hands-on activities, so we're looking forward to putting people to work. We want everyone in attendance to leave with something tangible that they can continue to work on when they go back to their office. We want everyone to be able to put on their thinking cap and really think about what is needed to create a successful plan that is not necessarily focused on a single individual who may or may not move up, but all the skills and competencies that are needed for that particular position.
TN: What makes this pathway different from the other pathways at the Leadership Conference?
AC: It rounds out the conference. Each pathway really focuses on a different area of an individual's career, and succession planning tends to be a discussion item when someone announces they're advancing to another position or when they're getting ready to retire. We want succession planning to be top of mind, whether you're involved in an office doing the day-to-day financial aid functions, or if you are participating in your state or regional organization. We don't want succession planning to be a second thought — we want it to be top of mind.
TN: Why should members sign up to attend the Succession Planning Pathway?
AC: Succession planning focuses on two areas: identifying someone to take over in the interim when someone exits, and identifying the skills and qualities for someone who will take over a position permanently. In either case, it is important for higher education administrators to develop a plan to increase that pool of experienced administrators to ensure that there are qualified candidates, and to reduce turnover and compliance issues. The track will also incorporate the development of entry-level professional staff members to begin learning to be mid-level supervisors in order to keep developing that professional staff within the organization chart. We hope the pathway will provide members with opportunities to actively engage and learn from one another.
Publication Date: 12/19/2022
---