Q&A With Kristi Jovell, Chair of the 2023 Conference Program Task Force
By Maria Carrasco, NASFAA Staff Reporter
With NASFAA's 2023 National Conference just a few months away, Today's News caught up with Kristi Jovell, chair of the 2023 Conference Program Task Force and NASFAA's national chair-elect for the 2023-24 year, on what members can expect.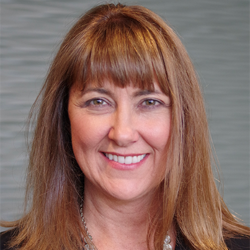 NASFAA's 2023 National Conference, which will be held in person from June 29 to July 2 this year in San Diego, California, is the premier event serving the student financial aid community. Thousands of financial aid administrators from across the country attend the national conference each year to teach, learn, network, and share best practices.
Some of the programming for the national conference includes a Charity 5K Run/Walk to benefit Students Without Limits, a nonprofit organization in San Diego that provides legal, mental health, and continuing education support to underserved minority and immigrant teens from low-income families who will be first-generation college students.
Featured speakers at the conference include Lt. Colonel Olga Custodio of the U.S. Air Force, and Dr. Ron Whitaker, the appointed culturally responsive pedagogy assistant professor of education and the director of the Center for Urban Education, Equity, and Improvement (CUEEI) at Cabrini University.
Along with the in-person national conference is NASFAA's 2023 Virtual Conference, which takes place online July 10-13. The conference's programming consists of entirely different content than the sessions offered at the national conference held two weeks prior. Session topics include college access and affordability, holistic financial aid advising, succession planning, and more.
Read on to learn more about NASFAA's 2023 National Conference and Virtual Conference!
TN: How does the National Conference Program Task Force shape the conference experience each year?
The task force shapes the conference by creating a strong program of concurrent sessions for both the national conference in San Diego and the virtual conference in July. This year's task force members are a great group of experienced financial aid administrators and NASFAA staff who thoughtfully reviewed each proposal submitted to build a program that meets the varied needs of our colleagues — covering things like what's top of mind in their office and what they need to be effective leaders on their campus and to serve the needs of their students.
TN: What can attendees expect from the national conference, especially those who have never attended in the past?
Attendees can expect a focus on hot topics this year — with FAFSA simplification having a showcase in San Diego. We will be in the thick of the upcoming changes by this summer. The conference will provide informative sessions presented by NASFAA, schools, subject matter experts, and the Department of Education, as well as networking opportunities with colleagues and exhibitors to talk about the issues we are all navigating and best practices for solutions. There's a first-time conference attendees kick-off networking event and dessert reception on the agenda, which is a great way to meet colleagues and introduces first-time attendees to NASFAA's Conference Mentor Program.
TN: What are you looking most forward to at the national conference? Any particular sessions or speakers of interest?
Networking with colleagues and industry professionals is one thing I am most looking forward to during the conference. Our work entails more than listening to a session and I value the opportunity NASFAA provides for taking that next step by building time into the conference program for me to discuss with other attendees how I am going to take that information and apply it on my campus and for my students. I think the task force has put forth a plethora of sessions on the agenda that I am eager to attend. Two sessions from the virtual conference that piqued my interest are Beyond the Headlines: Digging Deeper with College Access and Affordability, and The Power of Nudge.
TN: Why should NASFAA members attend the national conference?
There is no better place for a financial aid administrator to learn, grow, and network than the NASFAA national conference. Our profession requires us to keep abreast of new guidance and regulations, find new and innovative ways to serve our students, and learn new tools or products to do our jobs more efficiently, all while ensuring we remain compliant. The conference provides opportunities to help us with all of that — in addition to offering leadership and management sessions to help us grow in our career and networking opportunities to learn from, and lean on, our colleagues. Plus, I hope members who attend the conference will plan to take some time to enjoy all the San Diego area has to offer.
TN: How does this year's conference differ from previous years?
Support for a local charity is being brought back this year with several events throughout the conference. The exhibitors, in conjunction with NASFAA, are sponsoring a charity run/walk event to give back to the local community. Plus, attendees won't want to miss the chance to have their professional headshots taken. The NASFAA Choir, which we haven't had in many years, will be featured as part of the Opening Session. Be sure to volunteer on the NASFAA website if you haven't already. I'm looking forward to listening to my vocally talented colleagues, which doesn't include me. Additionally, this year's conference location will allow us to take advantage of the beautiful San Diego weather with a fun, outdoor social event featuring dueling pianos.
TN: NASFAA is celebrating National Women's History Month in March. As a woman in leadership at NASFAA, do you have any women mentors or leaders that you would like to highlight or give a shout out?
In keeping with our San Diego location and its naval presence, for National Women's History Month I would like to highlight the accomplishments of Beth Greenwood, my friend since we were kids, who inspires me through her leadership and service to others. Beth's career as a Navy captain included being one of the first females to fly combat aircraft for the Navy and a veteran who deployed to Afghanistan as a deputy commanding officer of a provincial reconstruction team with duties including engagement efforts to help local Afghan women. Her leadership and service didn't end with the Navy, though, as she has also served as a mayor and has a passion for creating community-building projects like Build Hope and the local farmer's market. Beth exemplifies the impact that a life led in service to others can have on a person, a community, and a country. She's a role model for many women — including me.


Publication Date: 3/30/2023
---