Staffing Survey Documents Growing Workload for Financial Aid Offices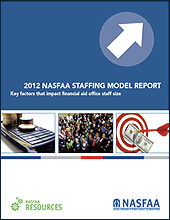 Financial aid offices are serving more students and administering more student aid dollars with fewer operating expenses, according to a recent staffing survey of National Association of Student Financial Aid Administrators (NASFAA) members.
The survey collected 2010-11 award year data from nearly 1,000 financial aid offices at different types of institutions from across the country. The data was used to develop the 2012 NASFAA Staffing Model and Staffing Model Report, two resources designed to help financial aid offices compare their staff size with similar institutions.
Findings from the 2012 survey suggest that financial aid offices are doing more with less when compared to results from the 2006 report. Financial aid offices administered almost twice as much student aid dollars, while experiencing a decrease in office operating expenses when compared to 2006. The report also examines staffing levels at financial aid offices and the key factors impacting staff size at various institutions. For more detailed findings download the report's executive summary.
Publication Date: 4/25/2012