NASFAA Members Bring Message to Capitol Hill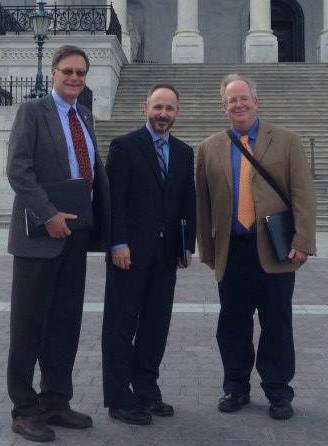 By Jesse O'Connell, NASFAA Policy Staff
On September 16, NASFAA members Jim White (Gonzaga University), Jim Swanson (Colorado College) and Brian Lemma (Georgetown University) joined NASFAA staff on Capitol Hill to discuss critical higher education issues facing financial aid offices and students.
The group met with staffers in the offices of five policymakers: Sen. Bennet (D-CO), Sen. Murray (D-WA), Sen. Casey (R-PA), Sen. Warner (R-VA), Rep. Polis (D-CO), in addition to meeting with Congresswoman Cathy McMorris Rodgers (R-WA), a member of the House Republican leadership. The policy discussions were wide-ranging and touched on loan counseling proposals, administrative ability to limit loans, the benefits of using prior-prior year income data when performing needs analysis, PLUS loan borrowing, and ideas to modernize and strengthen the Pell Grant program.
Some staffers requested feedback on recently introduced legislation to raise the Income Protection Allowance which our members were happy to provide. Additionally, our members shared their thoughts on the frustrating burden of incremental changes to loan origination fees as a result of sequestration, and engaged in a dialogue about the state of the imperiled Perkins loan program. As work continues to reauthorize the Higher Education Act, it remains critical to keep NASFAA members and our policy issues and suggestions in front of the Congressional staff that will be drafting and passing this important legislation.
"I really enjoy these opportunities to meet with House and Senate offices," said Lemma. "What was great about our visits today was the level of engagement the staffers showed, and the interest in, and knowledge of, issues that NASFAA supports."
"These efforts are so important as we move forward with promoting student financial aid and the NASFAA's Mission and Core Advocacy Principles," added Swanson. "Building these relationships between financial aid administrators and policymakers will help our students, for whom we serve, as we enter the reauthorization of the Higher Education Act process."
The Hill visits were part of NASFAA's ongoing advocacy effort, the Advocacy Pipeline, designed to bring NASFAA's elected leaders and other members to D.C. to share on-the-ground perspectives with policymakers.
Publication Date: 9/30/2014