MVP Brent Tener

MVP: Most Valuable Professional is a new series highlighting the insights and achievements of different NASFAA members. Do you know a financial aid colleague with something interesting to say? Send the names of potential future MVPs to news@nasfaa.org.  
Brent Tener
Director of Undergraduate Scholarships at Vanderbilt University (Nashville, TN)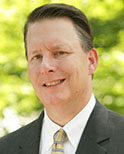 Meet Brent Tener! Brent began his financial aid career 24 years ago at Wichita State University. He has been involved in varying capacities with the Tennessee Association of Student Financial Aid Administrators (TASFAA), the Southern Association of Student Financial Aid Administrators (SASFAA), and NASFAA. As part of his service at the national level, Brent has served as Regional Representative and Commission Director to the NASFAA Board of Directors and will be serving as the Chair of the Conference Committee for the 2014 NASFAA Conference at the brand new Music City Center in Nashville, TN.
 
One thing working in financial aid has taught me: 
To be thankful for what I have been given.
I admire... 
Justin Draeger (seriously). He is like the energizer bunny, but much smarter.
My greatest accomplishment is... 
Yet to be determined. I told my boys the other day that for some, the best time in their life was in high school. For others it  was college. For me, I have been blessed that my "best time" is either now or yet to come.  Life keeps getting better.
A goal I've set for myself for the upcoming award year: 
It's like the NCAA basketball tournament; survive and advance.
If I could have a super power... 
I would like to fly. It takes too much time to get from one place to the other.
NASFAA service/product I find most helpful: 
Today's News.
My most motivating financial aid experience:  
When I was at Wichita State, I met with a newly-divorced single mom. Everything that she had previously invested in had fallen apart, and at age 30-something she needed a new start. It taught me the lesson that you can't take anything for granted.
Biggest financial aid change I've seen over the course of my career:  
The instantaneous delivery of almost everything. You actually had to wait to find out what was changing by either looking for the Dear Colleague letter in the mail or going to the state, regional or NASFAA conference.
Cat or dog person?:  
Dog. For dogs, they act like every day is the best day EVER!
I'm happiest when:  
I am at home, all of my family are in the same room (and not arguing), and my favorite team is winning on television. And the yard is mowed.
Want to say hello to Brent or reply to something he said? Please leave your remarks in the comments sections, below! 
Publication Date: 9/16/2013
---