MVP Kay Soltis

MVP: Most Valuable Professional is a series that features a brief Q&A with a different NASFAA member every couple of weeks. Do you know a financial aid colleague with something interesting to say? Send the names of potential future MVPs and a short note about why you're nominating them to news@nasfaa.org.  
Kay Soltis
Director of Financial Aid At Pacific Lutheran University
(Tacoma, WA)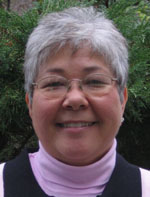 Kay began her financial aid career at Pierce College (formerly Fort Steilacoom Community College) in Tacoma, WA in 1971. She has spent many years involved in training at the state, regional and national level, including being a non-federal trainer for the Department of Education. She has also served as President of state association WFAA and President of the regional association WASFAA, served on NASFAA's Board of Directors as a Rep-at-Large and as a Regional President, and served as a member on NASFAA's Reauthorization Task Force.
When I'm not at work…  
I'm a big time crafter. My interests range from jewelry designing to basket weaving to crocheting and I love to read. I like a variety of genres, but my favorites are science fiction and mysteries. 
The best advice I ever got was… 
Gather and cultivate a network of colleagues to call on and to stretch myself beyond my comfort zone.
My greatest accomplishment is... 
My children. I am so proud of them and my husband and I are so blessed. 
What is a goal you've set for yourself for the 2013-14 award year?  
To obtain NASFAA University credentials for one module. You're never too old to learn!   
If you had a super power what would it be? 
Flying.
You can have dinner with three celebrities, dead or alive. Who are they? 
One of our astronauts (I don't have a particular one in mind, but since I'm never going to have the super power to fly, I'd want to hear about their experience in space), Nora Roberts (who sometimes writes using the pseudonym J.D. Robb), and J.K. Rowling.
What NASFAA service/product is most helpful to you? 
Today's News and Policy and Procedures template.
My most motivating financial aid experience was when... 
I went the extra mile to assist a student with financial aid and the student enrolled, graduated and is now working as a financial aid administrator. 
Biggest financial aid change I've seen during in my career was... 
Moving to the electronic application. Who would have thought we would be able to see an EFC instantly upon submission of the FAFSA information?
One personal fact that would surprise my coworkers... 
I get very nervous when I have to do any public speaking.
Want to say hello to Kay or reply to something she said? Please leave your remarks in the comments section, below!  
Publication Date: 10/11/2013
---