Angel's Angle: Learning From the Best

Another week has flown by in the blink of an eye! I cannot believe it has already been a little over a month since I first arrived here in D.C. As my knowledge on financial aid policy continues to grow, so does my interest. From the moment I first step in to the office in the morning, to the last couple of minutes I spend packing up, I am always learning something new! I am in an incredible position to be able and have such an awesome network of people around me to not only teach me new things but also share personal experiences from their days in a financial aid office. One of my favorite things about working at NASFAA is that I never have a shortage of people to turn to with my burning financial aid questions. I am astonished by the bank of knowledge my coworkers have-- they are typically able to answer any one of my questions, no matter how complex, in less than 30 seconds.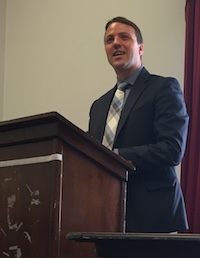 This week was a real treat because I got to attend the "Bridging State and Federal Aid Policies to Make College More Affordable" event held at the Cannon House Office Building. This event was particularly exciting because it was the first time I got to witness NASFAA President Justin Draeger speak. The event took place in a fairly intimate setting and was kicked-off by Rep. Joaquin Castro (D-TX) who shared his view that the poor college attainment rates among low-income students can be attributed to the tug-of-war between schoolwork and work. Ultimately, he emphasized, work often wins, which leads many students to withdraw from their college courses. Following Castro's sentiments, Draeger spoke on the current barriers in financial aid today; he identified states' lack of funding as having an adverse effect on both students and institutions. As he explained, state education cuts not only impact students and their ability to afford college, but also leave institutions scrambling to find ways to recoup their losses, usually by focusing primary recruiting efforts on out-of-state students. As always, the Q & A session was an excellent opportunity for the attendees to get an expert's opinion on the issues they feel most passionately about.

After my busy days at the office, I have made it a priority to get out and explore the area around where I am staying. Each evening, I have been going on an hour-long run in the surrounding neighborhoods. I have been fortunate to discover some pretty neat trails and pathways that are in close running distance. This has become a daily routine for me and is something I look forward to after work to unwind and relax from a busy day.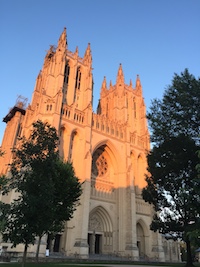 I am also happy that I was able to spend time this weekend viewing some local attractions. Visiting the Washington National Cathedral was at the top of my list of places to visit. Before moving to Washington D.C., a past coworker gave me a rundown of the places that I need to visit before I leave. She strongly recommended I go see the Cathedral because that is where she got married. Viewing it in person for the first time, I can see why she made that choice. As expected, the architecture-- both inside and outside-- was spectacular. I marveled at all of the detail on both the sculptures and the artwork inside. As I wrapped up my mini-tour inside the church, I walked back outside to a visual I will always remember; the sun was setting and highlighting every tiny detail of the beautiful church. I'm grateful that I not only live in such close proximity to so many wonderful places, but also that I have an amazing team of coworkers that are able to recommend such incredible places!

I also wanted to mention how excited I am to attend this year's NASFAA conference! As the date begins to quickly approach, I have kept myself busy viewing some of the training sessions that I will get to sit in on. My main job at the conference, however, will be operating the NASFAA booth. I am especially excited for this because it allows me to interact with all of you and hear your feedback on your experience at the conference! It also will be my first time visiting New Orleans! Hopefully between my sessions at the booth, and my other responsibilities, I can squeeze in some time to visit the French Quarter. How many of you have been to New Orleans before? I am open to any recommendations you may have of places to see in my downtime!

I am excited to finish the work week strong here at NASFAA and prepare for the Fourth of July weekend! As mentioned previously, I am looking forward to viewing the festivities right on the National Mall. I hope you all have a safe and relaxing weekend and hope you all can unwind from what I'm sure has been an interesting and productive week at the office!
Publication Date: 7/2/2015
---