Angel's Angle: See You in NOLA!

It's here! After all this talk, this year's annual NASFAA conference is finally here! With the conference starting in just 2 days, I'm sure most (if not all) of you have all your stuff ready to go for New Orleans! I am excited to see many of you during my time at the NASFAA booth in the exhibit hall. This will be a great opportunity for me to introduce myself to the membership and discuss all the goings-on at the conference! I will try my best to make sure I get to meet each and everyone of you personally. I'm also really looking forward to seeing everyone's excitement and enthusiasm as we march down Poydras and Peters streets during the parade! Remember to wear your NASFAA t-shirts and beads! I encourage you to come to me if you have any questions or need any help during your time at the conference. Part of my goal is to do all that I can to make sure you all have yet another successful and enjoyable conference.
In the office earlier this week, I got to accompany my coworker, Karen McCarthy, to a discussion on payroll withholding and income-based repayment (IBR) for federal student loans. Hosted by the RADD III consortium consisting of NASFAA, New America, and Young Invincibles, the gathering brought together a diverse mix of people and opinions from all walks of the higher education, financial aid, and business communities. After hearing the benefits of payroll withholding, but also the implementation challenges, I can say that I now understand why this is a topic that needs to be further examined. It has been to my benefit to hear compelling points on both sides because it enables me to examine the issue in its entirety and take into consideration many key points that I previously hadn't. I'm happy that so far it's been the case that many of these discussions are composed of people who have differing opinions. It's apparent that careful planning goes into creating the attendee list for this very purpose. I look forward to the progression of this discussion and especially to the final document that will be published by the RADD III consortium covering the recommendations and ideas discussed at this meeting.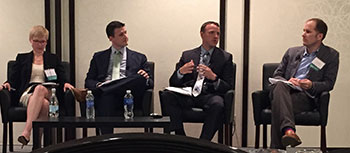 Immediately following the end of the convening at New America, I headed to the Education Finance Council's (EFC) mid-year membership meeting on institutional risk-sharing. The panel, which included NASFAA President Justin Draeger, discussed institutional risk-sharing and how, if implemented, it might affect colleges and their ability to operate in an equitable manner. The one question that was posed repeatedly was how institutional risk-sharing might conflict with colleges that have adopted a mission of providing open access education to all students. This was not something I had thought of, and it raised an interesting point. After hearing the reasoning of why this is so important to consider, it affirmed my understanding of why examining all the possible unintended consequences of implementing something, especially on this scale, is so crucial.
I also spent quite a bit of my time this week helping the policy team finalize their conference presentations. I was really glad I got to do this because it allowed me to get a glimpse at all of the exciting topics that are going to be covered! I am particularly interested in a presentation Karen McCarthy and members of NASFAA's FAFSA Working Group, will give on FAFSA Simplification. Among the many points that will be covered, the presenters will talk in detail about the forthcoming recommendations of the working group. If this is something that interests you, I would definitely recommend adding it to your list of sessions to attend!
Just before I make my way to New Orleans, there are a couple other events that I will be attending here in D.C. "The Real College Debt Crisis," the first event, will address the issue of crippling debt that low-income students must take on to finance a college education that doesn't guarantee them a degree. The last event I'll attend this week will be, "An Agenda for Higher Education Reform: A Keynote Address by Senator Lamar Alexander." Following Senator Lamar Alexander's keynote address, a panel of higher education professionals will discuss the current pressing issues in higher education today, as well as what opportunities are available to combat them.
For those of you who will not be attending the conference, I will be sure to fill you in on all the exciting events that took place! For those that will be attending, I want to encourage you again to come to the NASFAA booth and meet me! It will be a fun reward to finally put some smiling faces to those who have been following my journey online through my blogs.
Let me know what you're looking forward to most about the conference in the comments section below and don't forget to check out my Facebook album for pictures I've taken while in D.C.
See you in The Big Easy!
Publication Date: 7/17/2015
---