NASFAA Kicks Off the Conference with a Physics Lesson on Social Change

Nearly 2,500 financial aid professionals convened in New Orleans, LA Sunday for networking and professional development at the 2015 NASFAA National Conference. See below for summaries of selected sessions and follow along with conference happenings in real time on Facebook and Twitter using #NASFAA2015. Reminder: If you're looking for announcements and conference updates, our official Twitter account is @nasfaa.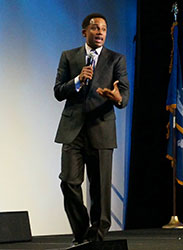 Keynote speaker Hill Harper

Passion, Energy, Reason, and Courage: The Keys To Bringing About Change
Attendees at the 2015 National Conference on Sunday learned about passion, energy, and how financial aid administrators can create change from keynote speaker Hill Harper.
Harper – an actor, author, and philanthropist known for his work on the TV show CSI: New York – focused his remarks on a few key words he believes can drive change: passion and energy, reason, and courage. As the founder of the Manifest Your Destiny Foundation, an organization dedicated to empowering underserved youth through mentorship and scholarship programs, Harper is deeply invested in empowering young students and encouraging them in their pursuit of education.
Harper said that in order to change something as large in scale as higher education in the U.S., advocates need to exert a large amount of passion, which he said is equivalent to energy. Physics teaches that energy cannot be created or destroyed, and therefore passion as a form of energy exists in all people as potential energy, Harper told the audience.
He continued the mini-physics lesson by describing two types of energy that he believes can perpetuate change: radiant energy, which he said equates to "letting your light shine in a way that attracts other people to it," and kinetic energy, which he said is the "risk-taking energy" that challenges others to "get on board or get out of my way."
After you harness your energy or passion, Harper said, you need to engage your reasoning skills to determine how you're going to apply your energy to a plan. The final piece is to tap into your courage and "access your heart in the presence of fear," he said.
For financial aid administrators, these lessons can help them tap into the potential energy of the students they serve and to help them instigate changes in higher education.
"There will be all sorts of naysayers who will project fear onto you when you are trying to do something different or impact a change, but who's to say that's true?" Harper asked the audience. "When you think about what ideas you're going to talk about [at this week's conference]... ask yourself if they are bold and innovative, and if you have the energy required" to see them through.
Harper concluded his speech by encouraging the audience, as they go about their daily duties, not to forget about all the students they help day in and day out. "They need you. They're there, they're real, they're not just numbers on paper," Harper said as the audience rose to offer a standing ovation.
NASFAA Management Benchmarking Task Force
In a session held early on Sunday afternoon, presenters Dan Davenport, director of financial aid at the University of Idaho, and Charlotte Etier, NASFAA's senior research analyst, detailed for attendees the work of NASFAA's Management Benchmark Task Force.
"The financial aid office really has expanded throughout campus and I think people are paying more attention to us now, for good or for bad," Davenport said. "That's why it's important for us to look at new ways we should be benchmarking," he added.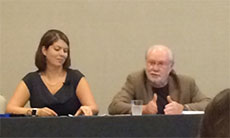 The Management Benchmarking Task
Force briefing.
The task force – convened to help identify benchmarks that would prove useful to financial aid directors, determine the frequency of benchmarking, and consider the method by which benchmarks were compiled and created – surveyed senior level administrators to determine which benchmarks were needed. As a result of the survey, the task force recommended benchmarks that pertain to administrative capability, the use of outsourcing work, and financial aid office campus relations be included in the next iteration of the survey.
"An area that's fairly new to financial aid is outsourcing... and we felt it was important for us to know what people are outsourcing," Davenport explained.
Of equal interest was learning more about relationships with other offices. "We wanted to know what the financial aid office's campus relations were, [such as] tactics used to establish positive relationships between the financial aid office and various institutions in order to build credibility," he added.
For the redesigned survey, which will be distributed this fall, NASFAA will divide the membership into three survey groups and will reorganize and remove some of the questions from the previous survey. The frequency of the survey will also change – each director will only be asked to complete the survey once every four years.
Once the survey results are received, NASFAA staff will begin work to update the Staffing and Salary models. The new models will be completed and posted to the NASFAA website in late 2015 or early 2016.
"I like the idea of combining two surveys in one," a session attendee said after the presenters opened the floor for feedback. However, he expressed concern related to the administrative costs of renewing the survey annually. He said thought a bi-annual renewal of the surveys would be sufficient because he felt the industry doesn't change that often.
Another attendee expressed an interest in seeing benchmarks about how much time is being spent trying to comply with all of the Department of Education's (ED) requirements. "I think we're losing the focus on what's best for the student," he said, explaining that he feels financial aid administrators' main goal used to be getting the right amount and type of aid to the right students and that now the majority of their meetings focus on how to ensure they will pass their state audit with zero findings.
Federal Town Hall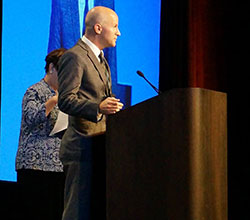 Opening Session

Conference attendees gathered Sunday afternoon to ask questions and receive updates from representatives of the Department of Education (ED), as well as NASFAA officials.
Questions ranged from the topics of the Supreme Court's ruling on same-sex marriage and how it could potentially impact federal student aid, to issues with ED's 150 percent rule's "subsidized usage limit applies" provisions and loan repayment for students who take more than six months off from school.
Several attendees had questions surrounding ED's newly-implemented gainful employment regulations and the reporting requirements. Despite the fact that just one-sixth of schools have reported the necessary data for the regulations, ED is not considering extending the reporting deadline past July 31, according to Federal Student Aid official Jeff Baker. Baker added, though, that ED is planning to issue a Q&A on gainful employment that may give information on additional programs to report.
Baker also said ED will be issuing guidance on student loan packaging as a follow-up to the guidance it recently distributed on loan counseling.
NASFAA President Justin Draeger urged ED to give institutions' flexibility with loan packaging.
"When it comes to packaging we would reaffirm… the flexibility on whether to package loans and into how much is firmly within the authority of the institutions," Draeger said.
Examining Trends & Solutions in Administrative Burden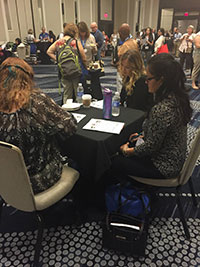 Conference first-timers enjoy
kick-off events
In a session Sunday afternoon, a group of higher education experts held a panel discussion on the burden regulatory and compliance challenges can cause for colleges and universities – and how those struggles can impact how financial aid administrators serve students.
Charlotte Etier, NASFAA's senior research analyst, detailed the results of a recent survey NASFAA conducted on regulatory burden. In all, just under 1,000 institutions completed full surveys, while another 300 completed partial surveys. The survey administered in 2015 sought to compare trends and concerns over time with a similar survey NASFAA issued in 2010.
Overall, financial aid administrators consistently said counseling and support staff were the top two resource shortages they faced, followed by budget shortages. Those shortages, in turn, had negative effects on students as well, the respondents said. More than two-thirds said the shortages had negative implications on their ability to meet face-to-face with students for counseling. Phone contact with students and loan counseling were also commonly cited as student service areas that were impacted.
Consistently collecting this data can be helpful in negotiations with policymakers, said Megan McClean, managing director of policy and federal relations at NASFAA.
After reviewing the results of the survey, McClean explained several recommendations NASFAA has made to ease the administrative burden of federal regulations on colleges and universities.
Among the recommendations, NASFAA has urged the federal government to adopt a prior-prior year (PPY) model that would allow students and families to submit earlier income data, and as a result have access to information about financial aid sooner. NASFAA also recommended giving aid administrators the authority to limit loan amounts for certain students. For example, administrators could limit half-time students to borrowing half the amount in loans.
Other recommendations included:
Eliminating all nonfinancial aid related questions from the application process.
Mandating an early commitment program for the federal student aid programs.
Reviewing, consolidating and streamlining consumer information requirements to make disclosures more targeted, meaningful and effective.
Simplifying the return of Title IV funds process when a student withdraws.
Revamping and making more transparent the process for estimating the burden of new regulations.
Including burden estimates in the negotiated rulemaking process.
Developing a threshold for the amount of burden the Department of Education (ED) can impose.
Terry Hartle, senior vice president for government and public affairs at the American Council on Education, spoke about the recommendations of a similar report presented to Congress earlier this year.
With respect to the challenges higher education institutions have faced with regulatory and compliance issues, Hartle said Congress is also to blame.
"[ED] has to deal with poorly drafted legislation," Hartle said. "Having said that, we also concluded [ED] rarely seems to focus on streamlining or simplifying compliance. Complexity, from [ED]'s perspective, is a good."
In the last six years, Hartle said, the Office of Federal Student Aid has issued 22 new regulations, compared with four from the previous administration.
Overall, Hartle said those who worked on the report found a variety of regulations that appeared to be unrelated to education, student safety or the stewardship of federal funds.
Innovative New Programs - How to Remain in Compliance in a Changing Landscape
During a packed session Sunday afternoon, conference attendees learned strategies for staying abreast of new program developments on campus and how to identify best practices for budgeting and awarding Title IV financial aid for students in these programs within the current regulatory framework.
The panelists shared tips and resources they use to track these programs on their own campuses, including the process for how to conduct a self-determination of a new program's eligibility versus when the Department of Education's (ED) approval is needed.
Among the best practices shared by the panelists were:
Getting buy-in from the top levels of the institution;
Involving all program stakeholders;
Maintaining open and frequent communication;
Knowing what's in your Eligibility and Certification Approval Record (ECAR)
Knowing when you have to update your E-APP (electronic application); and
Engaging in Code of Conduct and Ethics training for all admissions and financial aid personnel.
Innovative Strategies for Diversity in the Financial Aid Office
Improving diversity in the financial aid office is often a simple idea but can be a complicated process when addressed in the workplace, panelists told an afternoon session audience.
The session explored the various definitions of diversity and how it can impact attitudes within the financial aid office and the institution, as well as how it can affect aid administrators' unconscious behavior toward students.
While there are unlimited ways of defining diversity, the word "different" or "unique" can be found in just about all of them, presenter William Lindsey of the Pennsylvania Higher Education Assistance Agency (PHEAA) said. One way to improve diversity in the workplace is to address the "unconscious behaviors that have been taught over the years" and work with colleagues to figure out "how we can adjust to them," he added.
He highlighted what he referred to as the "Four Cs" to creating a more positive environment for change:
Communication
Commitment
Contribution
Collaboration
In order to close gaps in perspectives, the office must have a common goal and work to be on the same page, the panelists said, noting that ways to do this include increasing awareness and having a positive attitude about diversity and change.
Financial aid office managers need to have multiple tools in the toolbox to address their office's needs, Lindsey said, adding that the more tools at your disposal, the better off you'll be.
Communicating Value vs. Price - Why Transparency is Key
It seems headlines about excessive student debt are rampant nowadays and "one of the things that you hear oftentimes in the media is 'why didn't someone warn me?'" said session presenter Edward Recker, director of financial aid at the University of Findlay (UF) in Ohio. "We really as an industry have to come to grips with this problem," he added.
We can and need to do a better job communicating with students and families about the total cost of their education, Recker, Joe Spencer, and Rebecca Jenkins – all employees at UF – stressed during their presentation.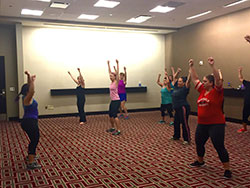 Attendees got an energetic start
with Zumba

During the session, the presenters discussed the impact disjointed relationships among an institution's financial aid office, business office or bursar, marketing department, and admissions office can have on students and families. Though it is likely unintended, when these offices don't communicate with one another they often end up undermining one another and confusing students in the process.
In UF's case, the four offices were reporting to three different divisions with different strategies and different goals.
"By undermining each other's offices, we were diminishing the brand that was the University of Findlay… because if we don't have our act together then they're thinking 'well, why am I getting all of these different answers?'" Recker said.
Once they started working together, the offices discovered each of their teams had very different goals: the financial aid office wanted a low discount rate and low student debt while still helping students attend, the admissions office wanted enrollment regardless of cost or debt, the marketing department wanted communications and products to look and sound great, and the business office just wanted to make sure everyone was paying their bills in full and in a timely fashion.
"We really looked at 'how can we get to these potential students, overall and early?'" Jenkins explained. They started by having their marketing team look at financial aid award letters, which had been causing potential students a great deal of confusion, to see how they could make it easier for students and families to understand and to determine what supplemental information was needed to increase understanding.
Timing is also crucial, Jenkins noted. Getting information out to students – in UF's case a one-pager called "Understanding Your Financial Aid Package" – before aid awards go out gives students time to review the information and familiarize themselves with financial aid terms so that by the time they get their award, they have the tools and knowledge to understand it.
UF's marketing department, in concert will all the other offices, created a number of videos to show students how to interpret their financial aid awards and also developed a "Total Degree Cost Calculator" to give prospective students and their families a simple way to estimate the total cost of earning their degree. The tool gives a net price for all the individual years and then aggregates that price to show the cost for the total program.
"The reality is, as a financial aid administrator, I'm proud to have a tool like this because we want to be communicating this information to students before they get into the program," said Spencer.
Ultimately, UF's efforts resulted in a 26 percent increase in traffic to the financial aid office's website – a testament to the fact that the information they were providing was more useful and easier to understand – and a "drastic decrease" in phone calls and walk-in traffic to both the financial aid and business offices. Since implementing their new outreach plan, they have also seen an increase in total enrollment and in the amount of entering first-time freshmen.
More updates to come from the National Conference in New Orleans! Stay tuned to Today's News for other session summaries.
Publication Date: 7/20/2015
---