New Orleans From Angel's Angle!

What an incredible past couple of weeks it has been! Getting to attend this year's NASFAA conference was truly an unforgettable experience – and the fact that it was in New Orleans was just the icing on the cake. I'm incredibly grateful that I got to attend this year's conference not only because of all of the new information that I learned on federal student aid, but mainly because it gave me the opportunity to interact directly with some of NASFAA's members.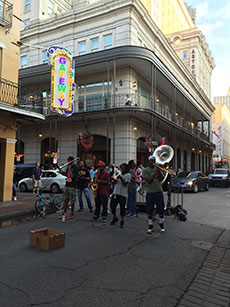 I want to thank those of you who came up to me personally and mentioned how much you enjoy reading my weekly blogs! It's a great feeling knowing that financial aid administrators all across the country are reading about my journey with NASFAA. Having direct contact with our members while I was stationed at the NASFAA booth allowed me to experience firsthand how great each and every one of you are. NASFAA is truly lucky to have such passionate, friendly and kind members.
My first duty at the conference was to help out at the t-shirt booth. This was my first opportunity to meet some of the members and introduce myself. As the day picked up, all those in attendance made their way to the main ballroom to watch our keynote speaker, Hill Harper, kick off the conference.
Harper opened by thanking the conference attendees for all that they do to serve the community. He attributed the successes he has had throughout his life not only his drive and ambition, but to those that helped him along the way. I found it inspiring the way Harper spoke with such passion and energy, and envied his ability to move effortlessly around the entire room and develop a connection with each attendee. Despite Harper's success in multiple areas, he still remains humble and modest in his accomplishments and never loses sight of what is important to him at his core. I was glad that I got to be a part of Harper's movement and I hope that you too were inspired just like I was!
As the conference moved into full swing, I got the opportunity to attend several workshops in addition to working at the NASFAA booth. I was really happy that I got to sit-in on some of these because a lot of them were targeted towards my specific financial aid interests – specifically, the topic of financial aid compliance.
Walking around from session to session also made me realize how small the financial aid community really is. While working a shift in the NASFAA booth, I got the chance to sit down and talk with Carrie Welch, a financial aid counselor at the University of Rochester. After talking and getting to know each other, I discovered that she had previously worked with Blondeen Philemond, NASFAA's Summer 2014 NASFAA policy intern for the Dallas Martin Fund for Education in Public Policy and Student Aid.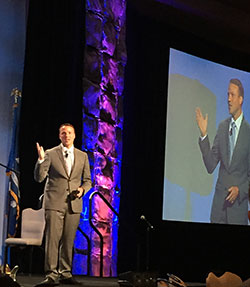 We smiled and laughed at how, out of all the attendees I could have ended up sitting down and talking to, it just so happened that she worked in the same aid office with the intern that had my position last year! It really is a small world! I am really glad I got the chance to meet Carrie because the passion and commitment she has to her students truly inspired me. She shared with me why she loves her job and what the most fulfilling part of what she gets to do is. It's the attendees like Carrie, who were so incredibly kind and friendly to me, that ultimately made my experience such an unforgettable one.

Although I will not be joining you all at next year's conference, I am incredibly thrilled for those who will be in attendance because it will be held in Washington D.C. If you have not yet been, D.C. is an incredible place. There are so many things to do and so many attractions to see. For those of you who will be attending next year, I really hope you get the chance to go out and enjoy D.C. just as much as I have this summer!
As you read this, I'm sure you are all preparing like crazy to get ready for fall disbursement. I want to encourage you to keep working hard and also stop and congratulate yourselves for all of the hard work that you do. As a Title IV recipient, I can tell you that the work you do to serve those like myself makes a huge impact. Before the fall semester begins, make sure you take some time relax and do something you enjoy!
Let me know what you're looking forward to most about the conference in the comments section below and don't forget to check out my Facebook album for pictures I've taken while in D.C.
Publication Date: 7/31/2015
---