Angel's Angle: Meeting New Faces and Seeing New Places

Although my time with NASFAA is coming to an end, my calendar and to-do list remain full. Among the many exciting events that I got to attend recently, there are two events in particular that I am excited to share with you. My first event this past week was the 2015 National Student Aid Profile Briefing. As some of you may recall, the National Student Aid Profile was one of the first big projects that I was assigned as an intern. My primary responsibilities for this event included: assisting in reviewing the Student Aid Profile in meticulous detail before sending it off to be printed, creating and managing the invite list, and lastly, creating the presentation to be used for the in-person briefing.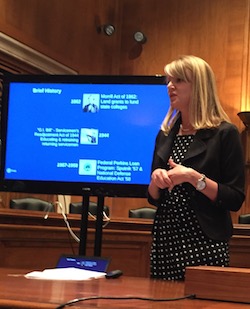 It was a great feeling to finally be able and showcase all the hard work that the policy team put into preparing for the briefing. Leading up to the big event, each person on the policy team contributed something different that collectively created our final presentation. On the day of the briefing, NASFAA President Justin Draeger gave the audience an overview of the current federal student aid programs and emphasized the role that NASFAA plays. Draeger also took this opportunity to bring up NASFAA's ongoing work in FAFSA simplification, noting that using prior-prior year income information is a large component of the proposal. Following Draeger's opening remarks, Managing Director of Policy and Federal Relations Megan McClean started the presentation by giving a brief history of the federal student aid programs and finished by stressing the importance of continued and increased funding for these programs. My role in the presentation was to cover what happens when a student completes the FAFSA. To give audience members some first-hand experience, I read the FAFSA dependency questions aloud and had them keep track of which questions applied to them, so they could each determine their own dependency status. At the conclusion of the event, the policy team and I opened the floor up to questions from the audience.
This was a great way to end the event because it showed just how engaged and interested the attendees truly were. The following day, I was able to attend "Reauthorizing the Higher Education Act: Combating Campus Sexual Assault," a hearing which featured two separate panels of witnesses, all of whom stressed the importance of increased efforts to keep campuses nationwide safer and free of sexual assault. Among the many witnesses speaking was Janet Napolitano, former governor from my home state of Arizona. Napolitano, now University of California (UC) president, urged schools across the country to adopt a campus sexual assault plan like the UC system's. I was thankful I got to attend this hearing because even though the issue of campus sexual assault falls within the reauthorization of the Higher Education Act, it is much different than the reauthorization subject matter I have been learning about during my internship.
I also had the opportunity last week to meet with a few financial aid directors from nearby colleges and universities. It was a great networking experience to be able and sit down with several financial aid administrators and get to hear about their job responsibilities and what they enjoy and what they find challenging about their jobs. I always find it fascinating to hear how financial aid administrators not only first got involved in financial aid, but ended up making it a career.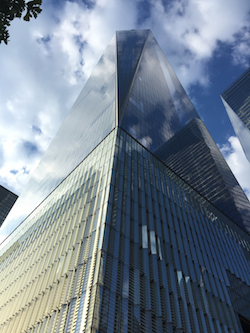 With another great work week under my belt, last week I decided to travel to New York City for the weekend. This is something I have been wanting to do for quite some time while living in D.C. Since I only had a small window before I needed to return to D.C., I packed as many things into my schedule as possible. Upon my arrival, I made my way down to Central Park, up through the Upper East Side, and eventually arrived back in Times Square– all on foot! Needless to say, I was incredibly exhausted by the end of the day! The following day I took the subway to the new World Trade Center and visited the National September 11 Memorial. This was one of my favorite attractions that I viewed in New York. The memorial itself was spectacular. I got to witness families place flowers in the cracks of the carved names of the victims and watch others as they stood there calmly looking up where the Twin Towers once stood. Ironically, my whirlwind trip to New York for the weekend was, overall, a relaxing and calming escape because it allowed me to unwind and enjoy some time to myself.
As I get ready for my last week with NASFAA, I am working hard to get to the things on my to-do list that I have still not completed. This weekend, I hope to go out and explore Washington, D.C. as much as I can before I head back to Arizona to complete the final year of my undergraduate career. As you are all reading this, I hope you too get to go out and explore/visit a new and exciting place that you have been waiting for an opportunity to get to see! And don't forget to check out my Facebook album for pictures I've taken while in D.C.
Publication Date: 8/7/2015
---