NASFAA Members Discuss Loan Origination Fees, PSLF With Congressional Staffers
By Allie Bidwell, Communications Staff
NASFAA members yesterday met with congressional staffers to discuss concerns from the graduate and professional student community, including student loan origination fees, the importance of campus-based aid programs, and a need to keep intact the Public Service Loan Forgiveness (PSLF) program.
Susan Ladd of Drake University, Tara Olsen of Tufts University, Gina Soliz of Syracuse University, and Jill Stone of Yale University met with legislative staffers in the offices of six lawmakers: Sen. Chuck Grassley (R-IA); Sen. Christopher Murphy (D-CT); Sen. Elizabeth Warren (D-MA); Rep. Katherine Clark (D-MA); Rep. John Katko (R-NY); and Rep. David Young (R-IA).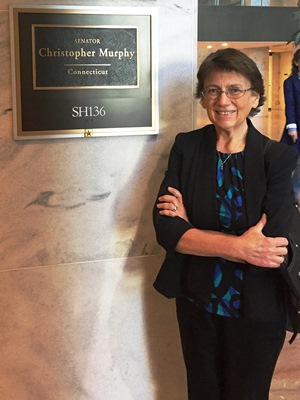 One of the top concerns in the graduate and professional student community, NASFAA members said, is the high origination fees on student loans, which were originally implemented in the 1980s as a short-term measure. It's not fair, members said, that students are responsible for repaying money that they never see. Students particularly in the last several years have attempted to make conscientious decisions about borrowing, and are often confused when their loan disbursements are lower than expected due to the fee deduction, the members said.
At Syracuse Law, Soliz said the average borrower has about $1,100 in loan origination fees taken off the top during his or her time in the program.
The members also shared a campus-level perspective on the importance of campus-based aid programs, such as the Federal Work-Study (FWS) program and the recently-expired Perkins Loan program.
There's often a misconception that FWS is a program only available to undergraduate students, members said, but it also gives graduate and professional students a way to earn needed money to fund their education, a flexible work schedule, and often times in-field experience.
NASFAA members urged support for reinstating the Perkins Loan Program through the reauthorization of the Higher Education Act, if possible, because the program was the last vestige of subsidized borrowing available to graduate and professional students.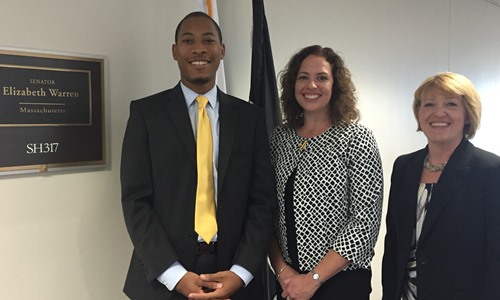 Without Perkins, Yale University's Stone said, "it will only increase [graduate and professional students'] debt." The Perkins Loan program and FWS together "really make schools and the government partners," said Drake University's Ladd.
There was also support across the board for keeping the Public Service Loan Forgiveness program intact. While NASFAA members acknowledged the need to refine and modify the program, they said students and alumni have been expressing concern that Congress may do away with the program entirely, at times to the extent that students consider completely altering their career paths based on the perceived viability of the program.
"That's my worry," Stone told staffers. "Are we actually pushing people out of public service because of this uncertainty?
The Hill visits were part of NASFAA's ongoing advocacy effort, the Advocacy Pipeline, designed to bring NASFAA's elected leaders and other members to D.C. to share on-the-ground perspectives with policymakers. In the coming months, additional NASFAA members will come to Washington in small groups to participate in direct advocacy with Congressional offices.
To learn how you can become involved please email policy@nasfaa.org and visit www.nasfaa.org/advocacy for more information on NASFAA policy and advocacy efforts. Check out our Facebook page for pictures from previous Advocacy Pipeline visits!
Publication Date: 10/6/2015
---