MVP Myrna Perkins

MVP: Most Valuable Professional is an occasional series that features a brief Q&A with a different NASFAA member. Do you know a financial aid colleague with something interesting to say? Send the names of potential future MVPs and a short note about why you're nominating them to news@nasfaa.org. 
Myrna Perkins
Associate Dean of Student Services, Director of Financial Aid
Barton County Community College
(Great Bend, Kansas)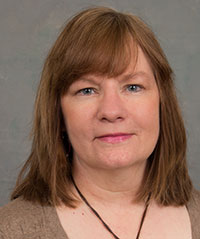 Meet Myrna Perkins, associate dean of student services and director of financial aid at Barton County Community College in Great Bend, Kansas. Following an 11-year career in banking, Perkins started her career in financial aid 22 years ago when she responded to an ad in a newspaper. "Little did I know I would be applying for a job in a profession that would become my passion," Perkins said.
If you had a time machine that would work only once, what point in the future or in history would you visit?  
I would definitely choose the 18th century.  I've always been drawn to movies set in that era. I think I must have lived a prior, pleasant life in that time period.
What's on your desk right now?  
Nothing! I am a minimalist and love clean lines. In fact, sometimes my co-workers have pranked me by stacking papers all over my desk for me to find when I return from being out of the office.
What was the best thing that happened to you this past week?  
A student who I was helping continued to say, "thank you, thank you, thank you" all the way to the door as she was leaving! This is why we in financial aid do what we do!
If you could learn any skill, what would it be?  
Fluency in another language. I minored in German language in college, but I have lost most of that knowledge due to lack of use. I would love to be able to read, write and speak another language fluently.
One thing I would like to change about the current financial aid system is:  
If it was within my power, I would like there to be enough grant money so students would not have to borrow to pay for their education. It would be so wonderful if students entering the workforce were not burdened by student loan debt.
What is a goal you've set for yourself for this year?  
I am really trying to get the work/life balance right. I have always had a rigorous work ethic, but four grandchildren to spend time with are sure testing that – and in a good way!
Choose a movie title for the story of your life.  
"Kansas Girl" I was born and raised, and have lived my entire life in the Sunflower State!
What NASFAA service/product is most helpful to you?  
NASFAA's Today's News and a cup of coffee is my first meeting of the day! I count on the TN to provide me with the news I need as well as interesting articles regarding our profession and higher education in general.
My most motivating financial aid experience was:  
The most motivating financial aid experience I've had is being part of NASFAA's Standards of Excellence (SOE) program. Through that channel I've met many wonderful people in this profession. The SOE program has not only been a way for me to help others, but it has been a touchstone for me to test and validate operations within Barton's financial aid office.
Biggest financial aid change I've seen in my career:  
The biggest financial aid change overall has been to go from a paper-based process to electronic.  
Want to say hello to Myrna or reply to something she said? Please leave your remarks in the comments section, below! You can also take a look back at our past MVPs to read any you missed the first time around.
 
Publication Date: 2/12/2015
---