Fight for Campus-Based Programs, NASFAA Members Tell Lawmakers
By Jesse O'Connell, Policy and Federal Relations Staff 
With a dusting of snow on the ground to make them feel at home, three NASFAA members from the upper-Midwest visited Capitol Hill to meet with policymakers on the committees that both authorize and fund our higher education programs. Lori Vedder (University of Michigan-Flint), Margaret Rodriguez (University of Michigan), and Sara Beth Holman (Lawrence University) were in D.C. participating in the most recent Advocacy Pipeline event, where they joined NASFAA staff to meet with lawmakers and share perspective on financial aid simplification, eliminating loan origination fees, switching to the use of prior-prior year income in need analysis, and the necessity of fully funding the campus-based aid programs during the upcoming federal budget process. The group met with staffers in the offices of four members of Congress: Sen. Debbie Stabenow (D-MI), Sen. Tammy Baldwin (D-WI), Sen. Ron Johnson (R-WI), and Rep. Glenn Grothman (R-WI), in addition to meeting with the democratic staff of the Senate Committee on Health, Education, Labor and Pensions (HELP).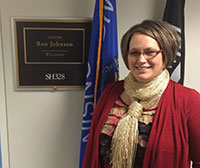 The campus-based programs were a point of focus in each meeting. NASFAA members explained that these programs, in addition to the obvious financial assistance they provide, give much needed flexibility to financial aid offices and knit students tighter into their campus communities. "I have work-study students that are tutors, they're working at the YMCA, they're at a local nursing home," said Holman. "They're doing great things and getting great experiences." The campus-based programs were level-funded for FY2015 (award year 2015-16) and our members stressed the importance of continuing to ensure full funding for these programs. Additionally, the discussion in a couple of the meetings turned to NASFAA's recommendations for updating the campus-based allocation formula, with the goal of ensuring that these funds make it to where today's needy students are attending college.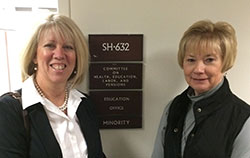 Several offices asked for our members' perspective on the recently introduced FAST Act, which seeks to radically simplify the application for federal student aid. "We need to make sure that the money is still distributed to the students that need it," said Vedder, while also noting that she was in favor of simplification as a general principle. The staffers our members spoke to seemed to understand the importance of striking a balance between making the aid process simpler, while not over-simplifying things and creating unintended consequences like creating institutional- or state-level aid applications to fill the information gap left by a stripped down FAFSA.
It was notable that there is still broad bipartisan interest and support for a move to prior-prior year income in need analysis, and our members took the opportunity to thoroughly explain the benefits of such a switch and answer questions about what the implementation of this proposal would look like in an aid office.
"Advocating on the Hill is critical but only affords you a few minutes with the decision-makers," said Vedder. "It's what you say in those few minutes that can make a difference and impact policy. Thank you NASFAA for the privilege to speak on behalf of students and our profession. Our work is making a difference!"
"Today's hill visits gave us the opportunity to share our perspectives on key issues that will be affecting financial aid in the near future," said Holman. "Kudos to NASFAA for facilitating an advocacy pipeline that not only gives its members a pathway to make their voices heard, but provides the education and guidance to make it a worthwhile experience for all involved."
The Hill visits were part of NASFAA's ongoing advocacy effort, the Advocacy Pipeline, designed to bring NASFAA's elected leaders and other members to D.C. to share on-the-ground perspectives with policymakers. In the coming months, additional NASFAA members will come to Washington in small groups to participate in direct advocacy with Congressional offices. 
To learn how you can become involved please email policy@nasfaa.org and visit www.nasfaa.org/advocacy for more information on NASFAA policy and advocacy efforts.
Publication Date: 1/15/2015