National Student Loan Cohort Default Rate Drops for Third Consecutive Year
By Allie Bidwell, Communications Staff
For the third year in a row, the three-year national student loan cohort default rate – as well as the rates in the public and proprietary sectors – decreased slightly, according to new data from the Department of Education (ED). The average cohort default rates for private and foreign institutions increased slightly.
The annual data – released Wednesday – show the national cohort default rate dropped from 11.8 percent for borrowers whose loans went into repayment in FY 2012 to 11.3 percent for those that went into repayment in FY 2013. ED changed its formula for calculating cohort default rates three years ago to capture the percentage of loans in default three years after beginning repayment. Previously, cohort default rates followed loan repayment for two years.
The federal default rate captured in the new data measures the percentage of borrowers who entered repayment between Oct. 1, 2012 and Sept. 20, 2013, and defaulted on their loans before Sept. 30, 2015. During that time, more than 5.2 million borrowers entered repayment, compared with the 5.1 million during the previous cohort.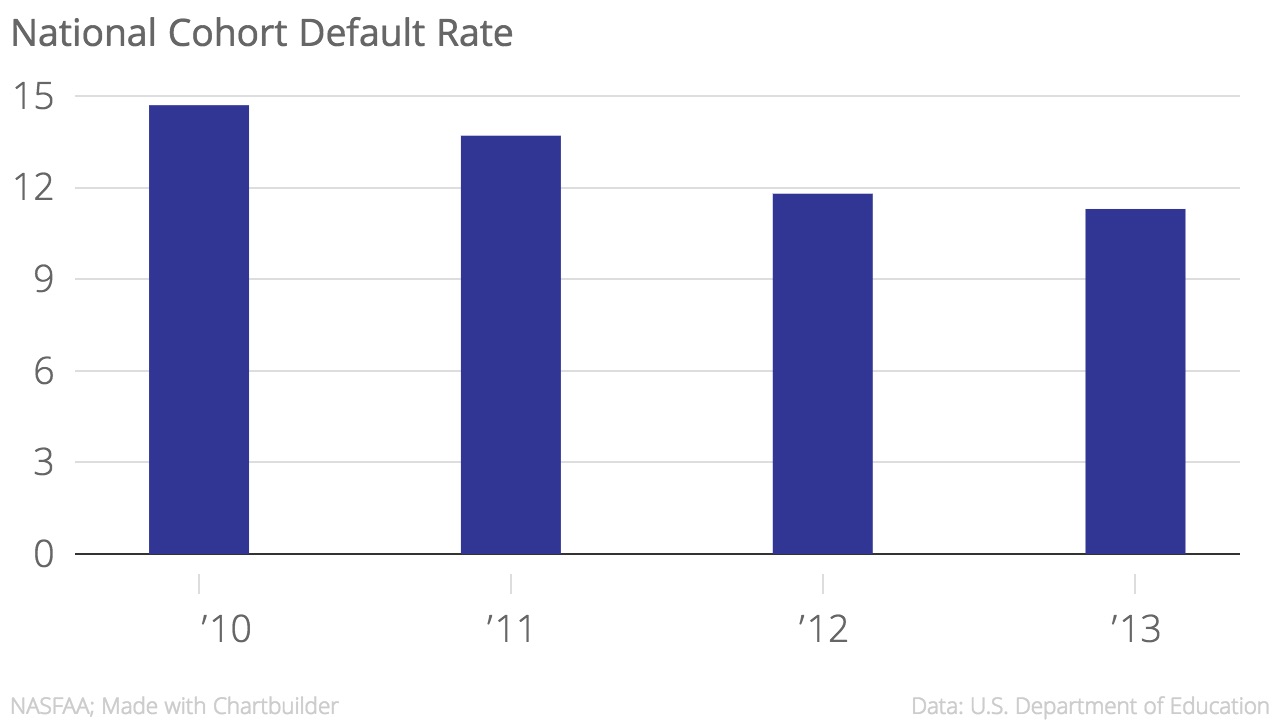 "The Obama Administration has taken unprecedented measures to provide borrowers more options to avoid default, manage their student debt and stay on track to repayment, and to hold institutions accountable for improving student outcomes," said U.S. Secretary of Education John B. King Jr., in a statement. "Even with progress, however, we know considerable work remains ahead."
Within the public sector, the overall default rate decreased from 11.7 percent to 11.3 percent. The default rates for two-year and four-year institutions also decreased, from 19.1 percent to 18.5 percent and from 7.6 percent to 7.3 percent, respectively. However, for less-than-two-year institutions, the default rate increased slightly, from 12.2 percent to 13 percent.
The overall default rate for private institutions increased from 6.8 percent to 7 percent. Meanwhile, the default rate for the proprietary sector – which has been criticized for its historically high default rates – decreased from 15.8 percent to 15 percent.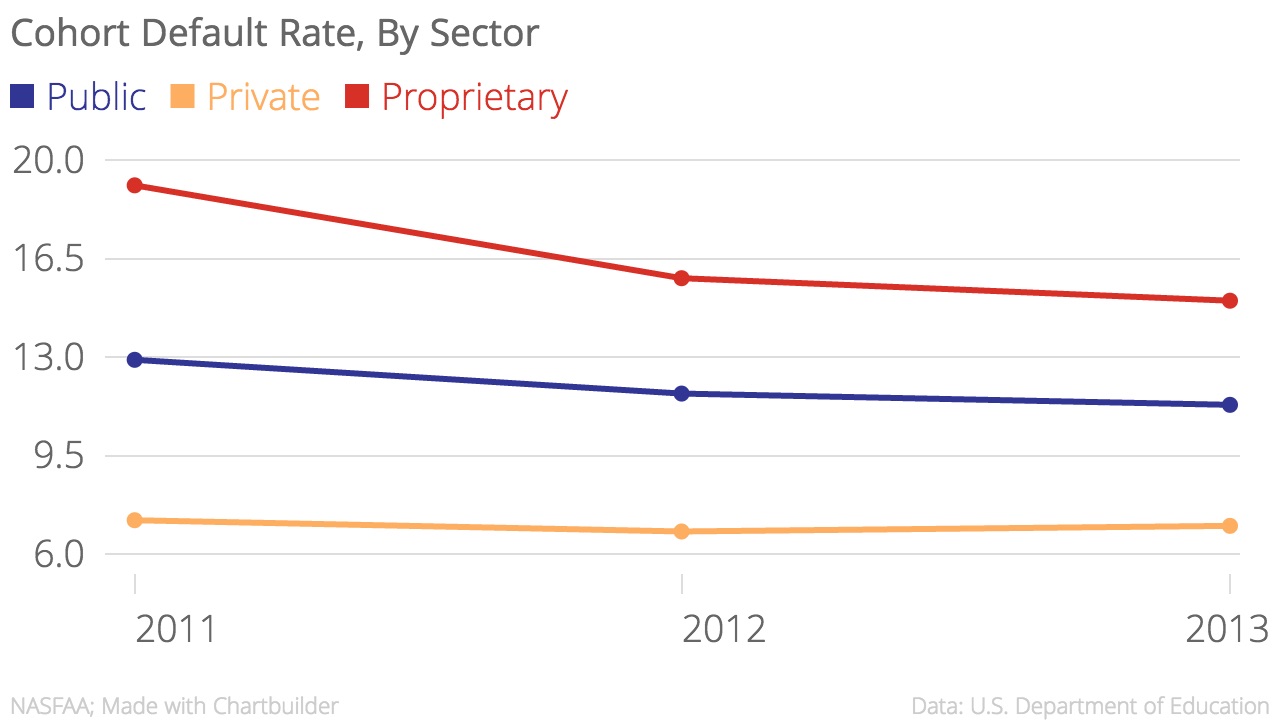 Cohort default rates also varied widely between U.S. states and territories, from lows of about 6 percent in Guam and Massachusetts to highs of more than 15 percent in Kentucky (15.5 percent) and West Virginia (16.2 percent).
Individual institutions with default rates 30 percent or higher for three consecutive years, greater than 40 percent for one year – or both – are subject to sanctions, including a loss of eligibility for one or more federal student aid programs. Under the new data, 10 institutions (nine for-profit schools and one private nonprofit school) – three of which fell into both categories – are subject to sanctions, unless they successfully appeal to ED.
Those schools are:
CA – Garden Grove – Cr'u Institute of Cosmetology and Barbering.

CA – Pasadena – Capstone College.

FL – Plantation – Florida Barber Academy.

IA – Cresco – Total Look School of Cosmetology and Massage Therapy.

IL – Chicago – Larry's Barber College.

LA – New Orleans – Crescent City School of Gaming & Bartending.

MD – Waldorf – Aaron's Academy of Beauty.

ND – Bismarck – United Tribes Technical College.

NY – Jamaica – New Life Business Institute.

TX – Houston – Jay's Technical Institute.
With the release of the new cohort default rates, NASFAA is offering its members a webinar on October 6 to discuss what the default rates mean for individual institutions, and what steps schools can take to ensure the accuracy of their rates.
Publication Date: 9/28/2016
---