This week on "Off The Cuff," Allie kicks things off with details from a new letter from the Biden administration, offering insight on the Department of Education's potential pathway forward on gainful employment rules. Jill then delves into a new HEERF report highlighting closed schools receiving HEERF funding and provides an update on HEERF III grant taxability. Remember to tune in to NASFAA's webinar today at 2:00 p.m. for the latest on HEERF. Megan then previews what higher education can expect in Biden's soon-to-be-released full budget proposal and highlights NASFAA's latest issue brief on origination fees. Plus, the team wants to know: Now that you're far removed from college, what is another profession outside of higher education you would have chosen?
Speakers
Justin Draeger
President & CEO


Megan Coval
Vice President, Policy & Federal Relations
Jill Desjean
Policy Analyst


Allie Arcese
Managing Editor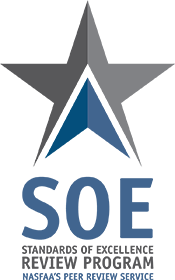 This episode is brought to you by NASFAA's Standards of Excellence (SOE) Program, which offers objective, confidential, peer reviews that assess your institution's delivery of student financial aid. Customized reviews are designed to highlight strengths, identify compliance exceptions, and recommend improvements. Learn more about the SOE Program.
Resources
Send your thoughts, questions, and comments. We'd love to hear what you think.