This week on "Off The Cuff," Justin and Karen are joined by Jon Fansmith, the American Council on Education's incoming senior vice president of government relations, to discuss the new Congress' higher education agenda along with the Department of Education's regulatory roadmap for 2023. The team kicks things off with a recap of the fiscal year 2023 omnibus, which brought a $500 increase to the maximum Pell Grant award, before moving on to the fallout and implications that the House's historic speaker election will have on higher education policy and the latest announcements concerning the department's income-driven repayment (IDR) regulations and additional accountability initiatives.
Speakers
Justin Draeger
President and CEO, NASFAA
Karen McCarthy
Vice President, NASFAA
Hugh Ferguson
Senior Reporter / Podcast Producer
Jonathan Fansmith
Senior Vice President, ACE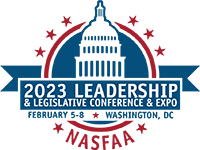 This episode is brought to you by NASFAA's 2023 Leadership & Legislative Conference & Expo. If you are a financial aid administrator who wants to grow professionally, expand your network, and become a leader on campus, in your association, or in your profession, this learning opportunity is designed for you.
Listen & Subscribe On:
Resources
Send your thoughts, questions, and comments. We'd love to hear what you think.