This week on "Off the Cuff," Justin, Jill, and David put the latest artificial intelligence (AI) software to the test and cover the nuance of "unusual circumstances" for FAFSA simplification. Jill kicked things off with a recap of how ChatGPT, a chatbot that can be used for natural dialogue processing, fared in answering a number of financial aid-related questions. David covers the difference between special and unusual circumstances and how it relates to FAFSA simplification. Hugh then caught members up on some of the latest news surrounding student loan debt cancellation, the implementation of a new enrollment management system at the Department of Veterans Affairs, and some legislative action on Capitol Hill.
Speakers
Justin Draeger
President and CEO


Jill Desjean
Senior Policy Analyst


David Tolman
Instructional Design & Content Specialist
Hugh Ferguson
Senior Reporter / Podcast Producer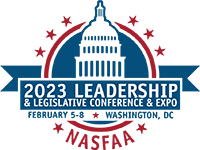 This episode is brought to you by NASFAA's 2023 Leadership & Legislative Conference & Expo. If you are a financial aid administrator who wants to grow professionally, expand your network, and become a leader on campus, in your association, or in your profession, this learning opportunity is designed for you.
Resources
Send your thoughts, questions, and comments. We'd love to hear what you think.