This week on "Off The Cuff," Justin and Karen are joined by Jon Fansmith, the American Council on Education's senior vice president of government relations, to discuss new data from the Department of Education on how Higher Education Emergency Relief Fund (HEERF) grants helped students and what President Joe Biden's decision to end the COVID-19 national emergency means for financial aid. The team also discusses new data from the White House about Biden's student loan cancellation program, and the Office of Federal Student Aid's annual performance review. Maria then updates listeners on the latest news, including the announcement that Biden will release his budget proposal for the coming fiscal year on March 9.
Speakers
Justin Draeger
President and CEO, NASFAA
Karen McCarthy
Vice President, NASFAA
Maria Carrasco
Reporter

Jonathan Fansmith
Senior Vice President, ACE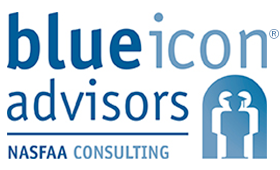 This episode of Off The Cuff is brought to you by Blue Icon Advisors. We know your time is valuable. So why not make every second count when it comes to your office's professional development? Whether you want to train your entire staff at once or break into teams, conduct training in person or virtually, focus on one topic or five, Blue Icon's custom training solution can be tailored to your specific needs. Visit blueiconadvisors.com to learn more and get started on your next custom training project.
Resources
Send your thoughts, questions, and comments. We'd love to hear what you think.