Learning Objectives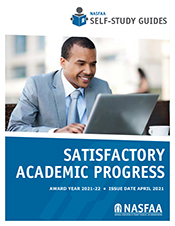 Lesson 1: Introduction to Satisfactory Academic Progress
Understand foundational concepts of satisfactory academic progress; and
Know about satisfactory academic progress consumer information requirements.
Lesson 2: Evaluating Satisfactory Academic Progress
Frequency of SAP evaluations and school options;
How to evaluate the quantitative and qualitative components of SAP; and
The consequences of a student not meeting SAP standards.
Lesson 3: SAP Appeals, Probation, and Academic Plans
School options related to SAP appeals, financial aid probation, and academic plans;
Circumstances and conditions under which a student may appeal a SAP determination and the elements which must be included in a SAP appeal;
Requirements of the financial aid probation status and academic plans; and
Requirements related to regaining eligibility after failing to maintain SAP.
Lesson 4: Additional SAP Policy Elements
Understand the additional elements which must be incorporated into a SAP policy.