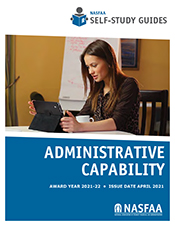 Learning Objectives
Lesson 1: Introduction to Administrative Capability
Understand the definition of administrative capability; and
Learn the measures of administrative capability
Lesson 2: Adequate Resources, Separation of Functions, and Information Sharing
Providing adequate resources and staffing capable of properly administering the Title IV federal student aid programs;
Instituting adequate checks and balances by separating the functions of authorizing awards and making payments or disbursements of Title IV funds; and
Sharing information and preventing conflicting information on a campus-wide basis.
Lesson 3: Electronic Processes, Recordkeeping, and Contingency Planning
Understand required electronic processes and communication;
Understand the importance of retaining records for the required time frames; and
Recognize the value of contingency planning. Recognize the various application output documents.
Lesson 4: Other Administrative Capability Requirements
Establishing satisfactory academic progress standards for students to progress in their academic programs and to retain Title IV aid;
Coordinating Title IV consumer information on a campus-wide basis;
Maintaining cohort default rates that would allow continued participation in the Title IV programs; and
Other general criteria for the institution, its principals, and its affiliates necessary to maintain institutional eligibility.