Learning Objectives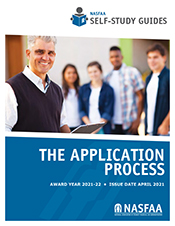 Lesson 1: The Free Application for Student Financial Aid (FAFSA)
Know how to apply for Title IV aid; and
Be able to identify and describe the versions of the FAFSA students may use to apply for Title IV aid.
Lesson 2: Application Process
Provide general information on proper completion of the FAFSA; and
Identify areas where mistakes are commonly made.
Lesson 3: Processing FAFSA Data and Application Output
Understand how FAFSA data is processed; and
Recognize the various application output documents.
Lesson 4: Changing Applicant Data
Understand the difference between corrections, updates, and adjustments;
Know how to submit changes to applicant data;
Recognize when dependency overrides are not appropriate; and
Understand when a school may accept a dependency override performed by another institution.