Learning Objectives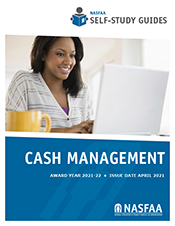 Introduction to Cash Management
Understand the meaning of cash management; and
Know the definitions of key terms related to cash management.
Requesting and Managing Title IV Funds
How a school requests and receives Title IV funds for making Title IV disbursements to students and for administrative cost allowances used to administer the Title IV programs;
Crossover payment periods and how to manage Title IV program funds covering those periods;
How to maintain Title IV funds received and held by the institution;
How to manage excess cash; and
When to return funds to the appropriate Title IV programs.
Disbursing Title IV Funds
Understand general and program-specific disbursement requirements;
Know how to handle Title IV credit balances; and
Understand provisions that must be made for the purchase of books and supplies.
Notifications and Authorizations
Know the various Title IV notifications; and
Recognize the Title IV authorizations.