Learning Objectives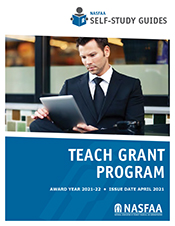 Lesson 1: Introduction to TEACH Grant Program
Understand the purpose of the TEACH Grant Program; and
Be able to make institutional and academic program eligibility determinations required under the TEACH Grant Program.
Lesson 2: Awarding TEACH Grants
Understand who is eligible to receive a TEACH Grant;
Understand the calculation of TEACH Grant awards; and
Understand when recalculations are required and optional.
Lesson 3: Agreement to Serve and Counseling Requirements
Understand the teaching obligation which comes with receiving a TEACH Grant;
Recognize the elements of the Agreement to Serve; and
Understand the TEACH Grant counseling requirements.