Learning Objectives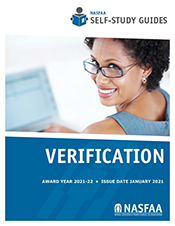 Lesson 1: Introduction to Verification
Understand the principles of verification;
Know when verification is required and for which Title IV programs;
Know what data elements must be verified;
Identify verification tracking groups; and
Understand verification documentation requirements for each data element.
Lesson 2: Changing Applicant Data
When corrections must be reprocessed via the Central Processing System;
What an update is and when it can be made; and
Professional judgment and the authority to utilize it.
Lesson 3: Interim Disbursements, Time Frames, and Policies and Procedures
A school's options for making interim disbursements;
The time frames associated with verification; and
The policies and procedures a school should have in place regarding verification.