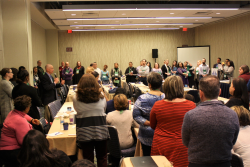 "Every day, when you're just so incredibly busy, I barely even have time to go through my emails. I have to step out of that to come to an event like this to gain knowledge. Our overall goal with college students is an investment, and this is an investment, too. It was very beneficial for me to come."
- Mandy Slowinski, University of Wisconsin - Stevens Point
"I loved every part of it. All the sessions have been perfect. This is all new to me, and I was a little nervous. Now, I'm ready to step into that [leadership] role, and I'm psyched!
- Kristie Hughes, Western Kentucky University
"The panel discussion was really insightful. As a practitioner, it's always really helpful to hear what's going on on the Hill, and then how that translates to our day-to-day duties."
- Ben Burton, Ivy Tech Community College
Recaps
Read recap articles from previous conferences
Listen to Episode 99 of NASFAA's weekly "Off The Cuff" podcast, where NASFAA Staff recap NASFAA's 2019 Leadership & Legislative Conference & Expo.