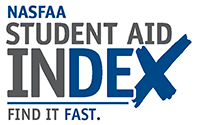 NASFAA's Student Aid Index is a central hub of all the important financial aid resources you need with direct links to legislation, regulation, Dear Colleague Letters, and other ED and NASFAA references. This simple-to-use online tool is also mobile-friendly. For more information on the benefits of the Student Aid Index, please visit nasfaa.org/index.
Important Notice: IFAP Content Across NASFAA Website & Tools
Due to site-wide changes on the Information for Financial Aid Professionals (IFAP) website over the weekend of February 8-9, links from NASFAA content, tools, and resources may be broken, and not display the intended content. NASFAA staff are working to reconnect these as soon as possible. In the meantime, if you need to find the referenced documents, please visit the IFAP home page to navigate to the intended item.
Recently Updated Topics
Top 5 Most Popular Topics
We welcome feedback on additional content, subjects, or bugs using the Student Aid Index Feedback Form.
Updated: 2/10/2020