Financial Aid Professionals Take to D.C. for NASFAA's 2020 Leadership Conference
By Joelle Fredman, NASFAA Staff Reporter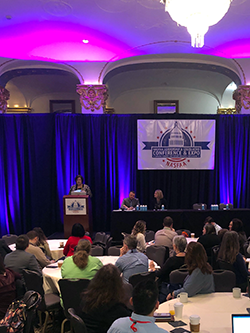 More than 370 financial aid professionals from across the country gathered in Washington, D.C. Monday for NASFAA's 2020 Leadership & Legislative Conference & Expo to gain knowledge, perspective, and insight into management issues facing current and future financial aid leaders.
Over the next two days, attendees will have the opportunity to network with financial aid professionals and aspiring directors from various institutions, hear about the skills needed to serve as leaders in their associations, explore the growing importance of enrollment management, and — new this year — learn about strategies for compliance management. On Wednesday, attendees will also have the opportunity to head to Capitol Hill to advocate on behalf of their students.
First-time conference attendee Jenn Schultz, the director of financial aid at Sauk Valley Community College in Illinois, said she is looking forward to comparing notes with colleagues and is participating in the association leadership pathway to bring back helpful tips to the Illinois Association of Student Financial Aid Administrators (ILASFAA), for which she is treasurer-elect.
Schultz said she left her first session of the day, which focused on association governance and board effectiveness, with strategies to increase engagement across her association, and methods for motivating others.
"It was very exciting. I learned that association work can be very difficult, but very rewarding," Schultz said.
Catherine Rohde, the assistant director of financial aid client services at Regis University in Colorado, said that although she has been in the field for a while, she is attending the conference for the first time to advance in her career.
"I've been in financial aid for a little over 10 years and I'm ready for the next step," she said. "I'm trying to meet other leaders and get a greater view of financial aid and how to be a better manager and leader all at the same time."
Rohde said she has so far enjoyed hearing about the difference between being a good manager and a good leader, and discovered that "everyone is still learning."
That message rings especially true for Christopher Rodriguez, the director of financial aid at Middlesex County College in New Jersey, who is attending the conference for the sixth time.
"I think this is the best conference there is. It's very focused, you really get to network, and you're not having to choose between several concurrent sessions. You have a specific path that you're going to be attending and becoming an expert in," Rodriguez said.
This year, Rodriguez is attending the new compliance management pathway to learn how to "get into a compliance mindset and see what other schools are doing." Rodriguez added that he also has staff attending the conference this year in the track targeted at new and aspiring financial aid directors.
"There's something here for everybody," he said.

In addition to attending sessions in their pathways, attendees were also welcomed Monday by NASFAA's 2019-20 National Chair Paula Luff, and received an overview of what's happening in D.C. on the policy front — to help prepare them to meet with lawmakers — from NASFAA President Justin Draeger and Vice President of Policy & Federal Relations Megan Coval.
"[The number of] congressional folks with student loan debt today is higher than it's ever been before," Draeger told conference attendees. "... They are very familiar with student debt issues."
Draeger went on to say that it is encouraging that as Congress slowly works toward reauthorizing the Higher Education Act (HEA), there is bipartisan support for higher education issues such as FAFSA simplification, loan repayment simplification, and institutional risk-sharing models. Draeger also pointed to some topics without support from both sides of the aisle that may appear in a HEA bill, such as streaminling student aid programs, free college for two-year institutions, and moving to a one grant, one loan model, which he encouraged members to discuss with lawmakers on behalf of students.
"You'll be using your voices for those who have yet to find theirs," Draeger said.
Coval added that NASFAA is working behind the scenes on pieces of legislation that may also make their way into a comprehensive bill, such as one that would codify the use of standardized language in instituions' aid offers, yet also allow them the flexibility to tailor offers to their unique student populations. Attendees also applauded loudly after Coval said the next HEA bill will likely include the elimination of origination fees, a change for which NASFAA and its members have long advocated.
Draeger also praised recent efforts that the Department of Education (ED) announced at the last Federal Student Aid (FSA) Training Conference, such as a new online resource for financial aid administrators to interact with ED dubbed the "NextGen PPO," and emphasized to attendees that it is just as important on the Hill to acknowledge the progress that has been made in student aid as it is to push for solutions to outstanding issues.
Be sure to check out NASFAA's Facebook album throughout the week for photos from the conference and follow along on social media with #NASFAALeads20 to keep up with what members are talking about!
Publication Date: 2/4/2020
---