As Congress begins serious consideration of reauthorization of the Higher Education Act (HEA) of 1965, as amended, legislation and related resources, including NASFAA comments and in-depth analysis, can be found on this page. This HEA Reauthorization page also offers HEA-related legislation from 2013-present and NASFAA's HEA recommendations for Congress.
NASFAA's HEA Reauthorization Recommendations
NASFAA and its members have been hard at work analyzing the HEA and potential new policies. In 2013, NASFAA released the preliminary report of the NASFAA Reauthorization Task Force. An updated report was released in July 2016 to include subsequent work from NASFAA policy task forces. In August 2019, NASFAA's HEA Reauthorization Refresh Working Group released updated recommendations, which were incorporated into NASFAA's most current HEA reauthorization recommendations found below.
Resources
With the introduction of President Joe Biden's American Family Plan, there are now four different "free" college plans that have been introduced in the spring of 2021. NASFAA has a created a high-level comparison chart to help its members differentiate between the plans. The chart will be updated as we receive any new information, or legislation.
Current Congressional HEA Reauthorization Work (2019-Present)
College Affordability Act
On October 15, 2019, Democratic members of the House education committee introduced a comprehensive bill to reauthorize the Higher Education Act (HEA) that would make significant changes to the way students access federal financial aid. The bill — dubbed the College Affordability Act (CAA) — opens federal aid to new populations of students, tweaks pivotal grant and loan forgiveness programs, and establishes a new institutional accountability metric, among other changes.
Student Aid Improvement Act
On September 27, 2019, Chairman of the Senate Health, Education, Labor, and Pensions Committee Sen. Lamar Alexander (R-TN) made good on one of his landmark legislative initiatives when he took to the Senate floor to propose a narrow reauthorization of the Higher Education Act (HEA) that focuses largely on simplifying the FAFSA. The Student Aid Improvement Act takes up several suggestions offered by NASFAA, including auto-qualifying applicants up-front for maximum Pell Grants if they meet specific criteria.
115th Congress HEA Reauthorization Work (2016-2018)
House Reauthorization Bills
NASFAA breaks down & compares House Republicans' PROSPER Act and House Democrats' Aim Higher Act in this helpful chart.
Previous Congressional HEA Reauthorization Work (2013-2016)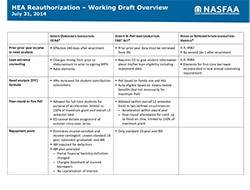 See NASFAA's comparison chart that illustrates the similarities and differences between the House and Senate bills.
Senate Reauthorization Bills

House Reauthorization Bills