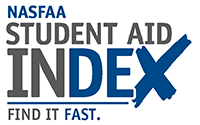 NASFAA's Student Aid Index is a central hub of important financial aid regulations, legislation, and other key resources— all in one convenient, mobile-friendly tool so you have the information you need, when you need it.
Discover resources. In addition to the FSA Handbook, the tool links directly to regulations, legislation, and other key resources.
Demonstrate your expertise. Use the knowledge gained to help parents and students, and impress your supervisor.
Watch your productivity surge. You'll get more done by spending less time searching for the information you need.
Get info 24/7. The mobile-friendly tool means you can find the answers you need anytime, anywhere.
Enjoy it free of charge!
Product Testimonials
"It took me about 2 minutes to find what I needed. The Student Aid Index is absolutely great."- Pam Fowler, University of Michigan, MI
"My staff love it! The University System of Georgia Board of Regents auditors want it. When challenged, this tool assists us in clarifying interpretation to these and other auditors." - Ron Day, Kennesaw State University, GA
"Before the Index I would have gone to various websites to find what I was looking for. The Index gave me direct links for the resources I needed and cut my research time down to almost nothing." - Brad Barnett, Senior Associate Director for Financial Aid, James Madison University
"I cannot tell you how often I am in meetings on my campus wishing I could check financial aid statutes, rules, regulations or NASFAA interpretations. So, you can imagine how excited I am that the Index gives me access right from my smart phone or tablet!" - Craig D. Munier, former Director of Scholarships & Financial Aid, University of Nebraska - Lincoln
Additional Benefits
Simple and intuitive - Organized in a tree hierarchy, the Index has top-level terms, common sets of informational resources for each term, and subtopics. A list of related terms and synonyms is also provided for each top-level term.
Easily searchable - If you don't want to search by hierarchy, you can search by terms at all levels, with links directly to the appropriate topic or subtopic.
Comprehensive - In addition, each topic/subtopic has associated resources such as text descriptions, images, files, and web links.
Expert data, straight from the source - Resources include direct links to federal regulation, legislative text, Department of Education guidance (including the FSA Handbook), and NASFAA interpretation and analysis.
Multiple delivery platforms - members can access the Index via their mobile device (don't forget to add the bookmark icon to your home screen!) or the website-optimized version, viewable from any web browser.
Constantly growing - the Index was built with scalability in mind, so that it can be quickly updated as new resources and guidance become available.